The Socialist 3 January 2018
Widening wealth gap, increase in poverty¬Ömake the fat cats pay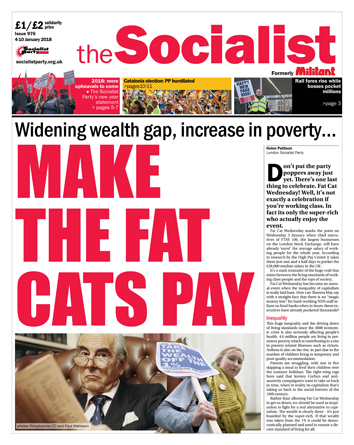 ---
---
Tory prescription for mental illness: stress and bureaucracy
---
Widening wealth gap, increase in poverty...make the fat cats pay
Mobilise against rip-off executive pay
Rail: fares up, bosses' pay up - delays and cancellations up
Thousands live in tents and sheds - seize empty homes
Heart unit rescued by campaigning saves baby with pioneering surgery
NHS in winter crisis as Branson creams off £1bn
---
Blairite council 'all ears' to rich property developers
Stop the rotten redevelopment plan, demand residents
Housing victory for Sussex students
Leeds: temporary reprieve for playing fields
Bradford protest against children's service cuts
Trade Unionist and Socialist Coalition conference
---
Equal sick pay rights for staff at Charlton Park Academy
Newham: school strike solid against academy
---
Catalan elections: PP humiliated
PO Box 1398, Enfield EN1 9GT
020 8988 8777
editors@socialistparty.org.uk

Link to this page: https://www.socialistparty.org.uk/issue/976/26635
Home | The Socialist 3 January 2018 | Join the Socialist Party
Subscribe | Donate | Audio | PDF | ebook
Housing victory for Sussex students
Success has been achieved with regard to the Sussex university student accommodation dispute at high rent Kings Road Hall near Brighton seafront.

Tired of dilapidated, rodent-infested flats with ovens and toilets not functioning, an absence of hot water, scaffolding blocking fire exits, and concerns not being addressed, over a third of the 110 residents staged an indefinite rent strike which was supported by the Brighton Acorn renters' union.

All this in the context of the revelation that former vice-chancellor Michael Farthing was given a £230,000 leaving bonus.
However, a mere four days of action saw the university capitulate. Proposals were outlined to offer each student £515 in compensation, to pledge to complete all repairs at the site ahead of the start of the spring term in January, and to devise an improved accommodation complaints procedure in future. The union said all its demands were met in negotiations.
One Kings Road resident told the Brighton & Hove Independent: "It's a huge victory. I can't believe we've won so fast! The residents of Kings Road are thrilled that our demands have been met in full".

Acorn organiser Duncan Michie was quoted: "This deal is an impressive victory for the union. We're proud to have been able to protect our members' interests and prove that real power comes from organising and taking action".
Andy Barber, Brighton Socialist Party
---
This version of this article was first posted on the Socialist Party website on 21 December 2017 and may vary slightly from the version subsequently printed in The Socialist.
---
In this issue
---
New Year statement

2018: more upheavals loom
---
Socialist Party comments and reviews

Tory prescription for mental illness: stress and bureaucracy

The Socialist inbox
---
Socialist Party news and analysis

Widening wealth gap, increase in poverty...make the fat cats pay

Mobilise against rip-off executive pay

Rail: fares up, bosses' pay up - delays and cancellations up

Thousands live in tents and sheds - seize empty homes

Heart unit rescued by campaigning saves baby with pioneering surgery

NHS in winter crisis as Branson creams off £1bn
---
Socialist Party reports and campaigns

Blairite council 'all ears' to rich property developers

Stop the rotten redevelopment plan, demand residents

Housing victory for Sussex students

Leeds: temporary reprieve for playing fields

Bradford protest against children's service cuts

Trade Unionist and Socialist Coalition conference
---
Socialist Party workplace news

Equal sick pay rights for staff at Charlton Park Academy

Newham: school strike solid against academy

Fire service victory

Leeds college pay protests
---
International socialist news and analysis

Catalan elections: PP humiliated
---
Home | The Socialist 3 January 2018 | Join the Socialist Party