The Socialist 21 March 2018
Hands off free school meals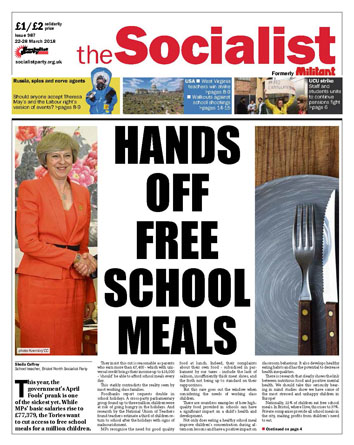 ---
Russia, spies and nerve agents
---
The Blairites are NHS privatisers - to save it means sacking them
Hated Blairite mayor ousted: now fight for a no-cuts Newham!
---
West Virginia teachers' strike victory
US school shootings: student walkouts challenge establishment
Brazil: Psol councillor Marielle Franco murdered
---
UCU strike: staff and students unite to continue pensions fight after magnificent 14 days of action
Hinkley workers win back unpaid wages after sit-in protest
Strikers and parents rally again in Newham against academies
Hull college workers ballot for action against mass redundancies
Unions condemn 'culture of bullying' at Merseyside hospital
---
Refugees march against racism and to demand rights
Ideas matter: help us fight to win with May Day greetings
Past fund-raising campaigns show dedication to the fight for socialism
Why I joined: 'The Socialist Party is at the forefront of defending Corbyn's anti-austerity leadership'
Hands Off HRI campaign granted judicial review
Over 1,000 on Newcastle NHS march
Refugee Rights to be launched in Manchester
---
Revolutionary physicist and champion of social causes
PO Box 1398, Enfield EN1 9GT
020 8988 8777

Link to this page: https://www.socialistparty.org.uk/issue/987/27066
Home | The Socialist 21 March 2018 | Join the Socialist Party
Subscribe | Donate | Audio | PDF | ebook
Them & us
Let them hang
Bosses for part of bailed-out bank RBS told staff to let small businesses "hang themselves" if they got in financial trouble.
As many as 50 small businesses closed a day in late 2008 because of the crash the bankers caused, according to the Federation of Small Businesses. And by September last year, public sector employment had fallen by a million from its high in September 2009, according to the ONS.
Having helped crash the economy, RBS received £45 billion of taxpayers' money to shore up its bottom line and bosses' bonuses.
Bosses booted
Of course, not all the toffs are getting it their way right now.
Lady Barbara Judge had to step down as chair of the Institute of Directors following claims of racist and sexist comments. She allegedly said of bosses' club secretaries: "the problem is that we have one black and we have one pregnant woman and that is the worst combination we could possibly have."
And 'Tatler Tory' Mark Clarke was forced from his cushy directorial post at multinational Unilever following sexual harassment claims. Readers may recall he was accused of bullying a young Tory activist who later died by suicide in 2015.
---
Faulty fire doors
Fire doors at Grenfell Tower meant to hold back flames for half an hour last just 15 minutes. Police investigators report they have failed basic safety tests.
Working fire doors alone would not have prevented the Grenfell atrocity. Profiteering property management still had the tower wrapped in flammable plastic. But it shows there's no end to capitalism's corner-cutting for profit.
Infant mortality
Britain's infant mortality rates have started to rise again, after years of going down.
In 2015, 2.6 newborns died for every 1,000 births. In the next year this rose to 2.7, according to the ONS. The death rate for babies in their first year rose from 3.7 for every 1,000 to 3.8 in 2016.
Poverty everywhere
Even better-off districts are home to "intense" child poverty. In Scotland, 468,430 income-deprived people live in areas which are not considered "multiple-deprived," according to research by Glasgow Caledonian University.
Schools broke
Four in five quasi-privatised 'academy' schools are running budget deficits - even more than council-run schools. The research comes from accountancy network Kreston UK.
This follows revelations that the number of publicly run secondary schools in deficit has almost tripled in three years. 9% were in deficit in 2013-14, compared to 26% in 2016-17, according to the Education Policy Institute think-tank.
---
In this issue
---
What we think

Russia, spies and nerve agents
---
Socialist Party news and analysis

Hands off free school meals!

The Blairites are NHS privatisers - to save it means sacking them

Cuts harm kids' health

Hated Blairite mayor ousted: now fight for a no-cuts Newham!

Them & us
---
International socialist news and analysis

West Virginia teachers' strike victory

US school shootings: student walkouts challenge establishment

Brazil: Psol councillor Marielle Franco murdered
---
Workplace news and analysis

UCU strike: staff and students unite to continue pensions fight after magnificent 14 days of action

Hinkley workers win back unpaid wages after sit-in protest

Strikers and parents rally again in Newham against academies

Hull college workers ballot for action against mass redundancies

Unions condemn 'culture of bullying' at Merseyside hospital

NSSN conference moves
---
Socialist Party reports and campaigns

Refugees march against racism and to demand rights

Ideas matter: help us fight to win with May Day greetings

Past fund-raising campaigns show dedication to the fight for socialism

Why I joined: 'The Socialist Party is at the forefront of defending Corbyn's anti-austerity leadership'

Hands Off HRI campaign granted judicial review

Over 1,000 on Newcastle NHS march

Refugee Rights to be launched in Manchester
---
Opinion

Revolutionary physicist and champion of social causes

The Socialist inbox
---
Home | The Socialist 21 March 2018 | Join the Socialist Party
Related links:

Them & us

Them & Us

Them & Us

Them & us

Them & Us

Sudan: End military rule and poverty

End fuel poverty

Tories hammer nail in pensions triple lock coffin

The fall of Apartheid in South Africa

Oaks Park School: valiant strike exposed state of schools

Covid, stress and cutbacks fuel school staff shortages

Union action needed for Covid safety

RBS to sack 1,000: nationalise the banks

Financial hardship facing millions of cancer sufferers