The Socialist 21 March 2018
Hands off free school meals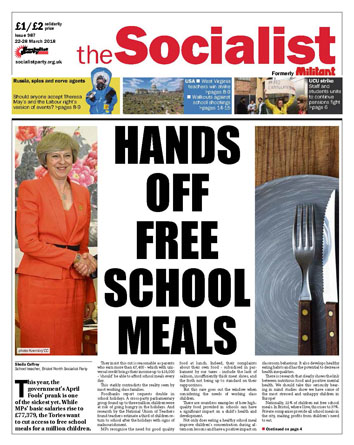 ---
Russia, spies and nerve agents
---
The Blairites are NHS privatisers - to save it means sacking them
Hated Blairite mayor ousted: now fight for a no-cuts Newham!
---
West Virginia teachers' strike victory
US school shootings: student walkouts challenge establishment
Brazil: Psol councillor Marielle Franco murdered
---
UCU strike: staff and students unite to continue pensions fight after magnificent 14 days of action
Hinkley workers win back unpaid wages after sit-in protest
Strikers and parents rally again in Newham against academies
Hull college workers ballot for action against mass redundancies
Unions condemn 'culture of bullying' at Merseyside hospital
---
Refugees march against racism and to demand rights
Ideas matter: help us fight to win with May Day greetings
Past fund-raising campaigns show dedication to the fight for socialism
Why I joined: 'The Socialist Party is at the forefront of defending Corbyn's anti-austerity leadership'
Hands Off HRI campaign granted judicial review
Over 1,000 on Newcastle NHS march
Refugee Rights to be launched in Manchester
---
Revolutionary physicist and champion of social causes
PO Box 1398, Enfield EN1 9GT
020 8988 8777

Link to this page: https://www.socialistparty.org.uk/issue/987/27076
Home | The Socialist 21 March 2018 | Join the Socialist Party
Subscribe | Donate | Audio | PDF | ebook
Past fund-raising campaigns show dedication to the fight for socialism
As raised in previous issues of the Socialist, we are currently under threat of eviction from our national offices in London. In response we have launched a building fund appeal to help us afford new premises.
As an organisation based on the working class and without rich backers, we have always taken a very serious approach to finance.
Long-time members Val and Terry Pearce have been committed socialists for decades and well remember fund-raising campaigns from the past.
Val says: "We met in the Putney Young Socialists in 1963 and for many years we worked hard in our pursuit of bringing about a socialist society."
They eventually became Militant (forerunner to the Socialist) supporters in 1974 after which they say the Labour Party meetings took on a new purpose - to win workers and youth to a clear socialist programme.
Emergency appeal
In 1975 they were asked to help raise money to replace the press and equipment destroyed in a fire. In only one month Militant was back in production and by the end of year enough had been raised for a new national centre at Mentmore Terrace.
"So many comrades felt a pride in what was achieved. The increasing size of our paper on the new press was obtained by the hard work and commitment of comrades up and down the country alongside an increasing readership," says Val.
"Even the name 'Mentmore Terrace' brings back warm memories of comradeship," remembers Terry. "Going to the centre made you realise that our work locally was of great value nationally in assisting the many working class struggles taking place."
Val explains: "When a new building fund was launched in October 1983 everyone understood the need for larger, safer premises, and we raised enough to move to Hepscott Road".
We had huge support from the wider working class and also the most dedicated members whose financial sacrifice was linked to understanding what was needed in the fight for socialism.
We stand on the shoulders of all those who have gone before. The fight for a socialist society continues and so does the Socialist Party. Help us in that struggle - donate to our building fund.
---
In this issue
---
What we think

Russia, spies and nerve agents
---
Socialist Party news and analysis

Hands off free school meals!

The Blairites are NHS privatisers - to save it means sacking them

Cuts harm kids' health

Hated Blairite mayor ousted: now fight for a no-cuts Newham!

Them & us
---
International socialist news and analysis

West Virginia teachers' strike victory

US school shootings: student walkouts challenge establishment

Brazil: Psol councillor Marielle Franco murdered
---
Workplace news and analysis

UCU strike: staff and students unite to continue pensions fight after magnificent 14 days of action

Hinkley workers win back unpaid wages after sit-in protest

Strikers and parents rally again in Newham against academies

Hull college workers ballot for action against mass redundancies

Unions condemn 'culture of bullying' at Merseyside hospital

NSSN conference moves
---
Socialist Party reports and campaigns

Refugees march against racism and to demand rights

Ideas matter: help us fight to win with May Day greetings

Past fund-raising campaigns show dedication to the fight for socialism

Why I joined: 'The Socialist Party is at the forefront of defending Corbyn's anti-austerity leadership'

Hands Off HRI campaign granted judicial review

Over 1,000 on Newcastle NHS march

Refugee Rights to be launched in Manchester
---
Opinion

Revolutionary physicist and champion of social causes

The Socialist inbox
---
Home | The Socialist 21 March 2018 | Join the Socialist Party