The Socialist 21 March 2018
Hands off free school meals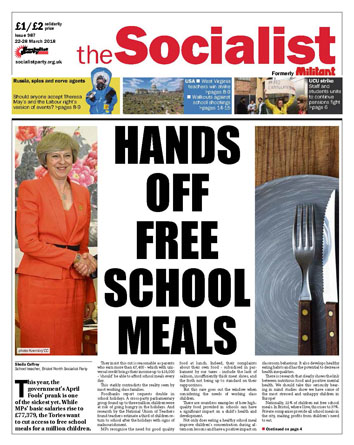 ---
Russia, spies and nerve agents
---
The Blairites are NHS privatisers - to save it means sacking them
Hated Blairite mayor ousted: now fight for a no-cuts Newham!
---
West Virginia teachers' strike victory
US school shootings: student walkouts challenge establishment
Brazil: Psol councillor Marielle Franco murdered
---
UCU strike: staff and students unite to continue pensions fight after magnificent 14 days of action
Hinkley workers win back unpaid wages after sit-in protest
Strikers and parents rally again in Newham against academies
Hull college workers ballot for action against mass redundancies
Unions condemn 'culture of bullying' at Merseyside hospital
---
Refugees march against racism and to demand rights
Ideas matter: help us fight to win with May Day greetings
Past fund-raising campaigns show dedication to the fight for socialism
Why I joined: 'The Socialist Party is at the forefront of defending Corbyn's anti-austerity leadership'
Hands Off HRI campaign granted judicial review
Over 1,000 on Newcastle NHS march
Refugee Rights to be launched in Manchester
---
Revolutionary physicist and champion of social causes
PO Box 1398, Enfield EN1 9GT
020 8988 8777

Link to this page: https://www.socialistparty.org.uk/issue/987/27078
Home | The Socialist 21 March 2018 | Join the Socialist Party
Subscribe | Donate | Audio | PDF | ebook
Unions condemn 'culture of bullying' at Merseyside hospital
Rachael Potter, health worker, Liverpool Socialist Party
Many heath trusts across the country are carrying vacant posts and as a result many staff are covering staff shortages by doing duties above and beyond their pay grade.
Trade unions should be challenging employers to ensure that these posts are filled - many staff feel exhausted having to work long hours, many beyond their contractual hours.
An independent report into alleged bullying within the A&E department in Arrowe Park hospital on the Wirral has condemned the trust for a culture of bullying.
In the last couple of months the trust has seen the departure of the head of human resources, the CEO and more recently the chair of the trust.
Sir David Henshaw has also been imposed on the trust by NHS to beef up the management structure. This is the same man who, when chief executive at Liverpool council, encouraged managers who worked there under Militant's control of the council to seek employment elsewhere.
Full time officials from both Unison and Unite the Union have made it clear to the employer that action speaks louder than words and if this bullying culture does not change then their members will consider taking the appropriate action to stand up to bullying managers.
The unions do not welcome the appointment of Henshaw given his track record with the unions.
---
In this issue
---
What we think

Russia, spies and nerve agents
---
Socialist Party news and analysis

Hands off free school meals!

The Blairites are NHS privatisers - to save it means sacking them

Cuts harm kids' health

Hated Blairite mayor ousted: now fight for a no-cuts Newham!

Them & us
---
International socialist news and analysis

West Virginia teachers' strike victory

US school shootings: student walkouts challenge establishment

Brazil: Psol councillor Marielle Franco murdered
---
Workplace news and analysis

UCU strike: staff and students unite to continue pensions fight after magnificent 14 days of action

Hinkley workers win back unpaid wages after sit-in protest

Strikers and parents rally again in Newham against academies

Hull college workers ballot for action against mass redundancies

Unions condemn 'culture of bullying' at Merseyside hospital

NSSN conference moves
---
Socialist Party reports and campaigns

Refugees march against racism and to demand rights

Ideas matter: help us fight to win with May Day greetings

Past fund-raising campaigns show dedication to the fight for socialism

Why I joined: 'The Socialist Party is at the forefront of defending Corbyn's anti-austerity leadership'

Hands Off HRI campaign granted judicial review

Over 1,000 on Newcastle NHS march

Refugee Rights to be launched in Manchester
---
Opinion

Revolutionary physicist and champion of social causes

The Socialist inbox
---
Home | The Socialist 21 March 2018 | Join the Socialist Party