The Socialist 18 April 2018
Get the Tories out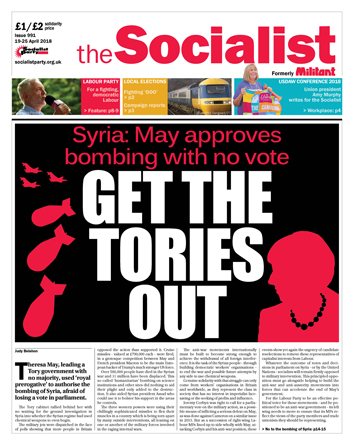 ---
---
For a fighting, democratic Labour Party
---
Give us your change (and more) to fight for system change!
Building fund: £150,000 milestone smashed!
The Socialist - a fighting, campaigning, workers' paper
Hull says no to war, no to austerity
Victorious Fearnville Fields campaigners thank the Socialist
---
1,400 beds empty as patients lay in corridors: health unions must act now
Catalonia: 1m marchers demand self-determination
Billions for the bosses, benefit cuts for us
---
Labour councillors could stop unsafe 'driver-only operation' tomorrow
Grimsby local paper reveals Labour candidate 'tried to defect to the Tories'
TUSC campaigners challenge youth club cuts
Huddersfield TUSC takes on the Blairites
Butterfields tenants join TUSC campaign
Haringey TUSC fights Blairite cuts
---
Enoch Powell's racist 'Rivers of Blood' rant 50 years on
---
Usdaw conference 2018: time for new era of fighting trade unionism
UCU members vote to end pensions dispute
Bromley libraries - indefinite strike action continues
PCS rejects Acas offer - further strikes announced
Vote for a left, fighting PCS leadership
Avenue School strikers and parents win judicial review
Workers' victory over anti-union Scottish council
---
Vital depiction of fight for Aids prevention and treatment
PO Box 1398, Enfield EN1 9GT
020 8988 8777

Link to this page: https://www.socialistparty.org.uk/issue/991/27206
Home | The Socialist 18 April 2018 | Join the Socialist Party
Subscribe | Donate | Audio | PDF | ebook
Billions for the bosses, benefit cuts for us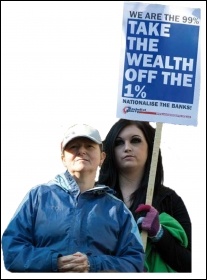 We are the 99% - Take the wealth off the 1% - Socialist Party placard, photo Paul Mattsson (Click to enlarge)
Simon Carter, East London Socialist Party
Capitalist wealth distribution is now at its most unequal and set to widen further.
As of March, there were 2,208 billionaires in the world, according to Forbes. Their total worth is $9.1 trillion, an increase of nearly a fifth on 2017 - average wealth, $4.1 billion.
And Amazon founder Jeff Bezos has become the planet's first hundred-billionaire, with a $106 billion personal fortune. He pipped Bill Gates to first place by adding a staggering $39 billion to his wealth in just a year.
Shortly afterwards, the Tory government's latest cuts in 'universal credit' benefits came into effect.
Even before the most recent changes, families had to wait many weeks for payment, leading to rent arrears and evictions. And food banks report a big uptake from families in areas where universal credit has been rolled out.
Now, according to the Resolution Foundation, 3.2 million working families in the UK are expected to be worse off, with an average loss of £48 a week. About 600,000 of those, mainly couples with children, will no longer be entitled to any help at all.
True, 2.2 million working families will gain an average increase of £41 a week. But the maths shows that overall, one million families will lose out.
But what about the government's commitment to reign in the tax-dodging mega-rich? "When it comes to opportunity, we won't entrench the advantages of the fortunate few," pledged Theresa May.
Yet parliament's Public Accounts Committee has found that the HM Revenue and Customs tax take from 'high net worth individuals' fell by £1 billion since the Tories set up a special unit for them. Income tax paid by all other taxpayers has risen by £23 billion over the same period.
For the Tories, it's business as usual - robbing Peter to pay for super-rich Paul. Four years ago, a PCS union-commissioned report found that £119 billion in tax was being dodged in the UK, mainly by big companies and wealthy individuals.
Compare that figure to government spending on education, £90 billion, transport, £20 billion, and health, £148 billion in 2016-17, according to Institute for Government analysis.
Let's kick out this government of the multibillionaires and fight for a socialist programme to reverse austerity and make the super-rich and their giant corporations pay to increase the living standards of the 99% through nationalisation and progressive taxation.
---
In this issue
---
What we think

No to the bombing of Syria!
---
Labour Party

For a fighting, democratic Labour Party
---
Socialist Party reports and campaigns

Give us your change (and more) to fight for system change!

Building fund: £150,000 milestone smashed!

The Socialist - a fighting, campaigning, workers' paper

Hull says no to war, no to austerity

Victorious Fearnville Fields campaigners thank the Socialist
---
Socialist Party news and analysis

Young people need homes

1,400 beds empty as patients lay in corridors: health unions must act now

Catalonia: 1m marchers demand self-determination

Billions for the bosses, benefit cuts for us

Them & Us
---
Local elections 2018

Labour councillors could stop unsafe 'driver-only operation' tomorrow

Grimsby local paper reveals Labour candidate 'tried to defect to the Tories'

TUSC campaigners challenge youth club cuts

Huddersfield TUSC takes on the Blairites

Butterfields tenants join TUSC campaign

Haringey TUSC fights Blairite cuts
---
Socialist history

Enoch Powell's racist 'Rivers of Blood' rant 50 years on
---
Workplace news and analysis

Usdaw conference 2018: time for new era of fighting trade unionism

UCU members vote to end pensions dispute

Bromley libraries - indefinite strike action continues

PCS rejects Acas offer - further strikes announced

Vote for a left, fighting PCS leadership

Avenue School strikers and parents win judicial review

Workers' victory over anti-union Scottish council
---
Opinion

Vital depiction of fight for Aids prevention and treatment

The Socialist inbox
---
Home | The Socialist 18 April 2018 | Join the Socialist Party