The Socialist 18 April 2018
Get the Tories out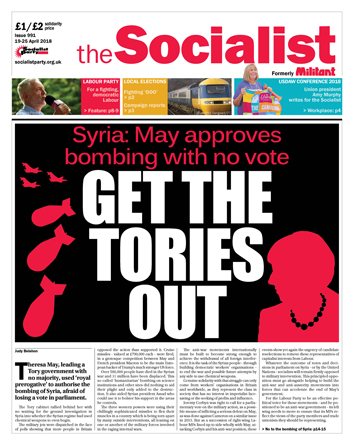 ---
---
For a fighting, democratic Labour Party
---
Give us your change (and more) to fight for system change!
Building fund: £150,000 milestone smashed!
The Socialist - a fighting, campaigning, workers' paper
Hull says no to war, no to austerity
Victorious Fearnville Fields campaigners thank the Socialist
---
1,400 beds empty as patients lay in corridors: health unions must act now
Catalonia: 1m marchers demand self-determination
Billions for the bosses, benefit cuts for us
---
Labour councillors could stop unsafe 'driver-only operation' tomorrow
Grimsby local paper reveals Labour candidate 'tried to defect to the Tories'
TUSC campaigners challenge youth club cuts
Huddersfield TUSC takes on the Blairites
Butterfields tenants join TUSC campaign
Haringey TUSC fights Blairite cuts
---
Enoch Powell's racist 'Rivers of Blood' rant 50 years on
---
Usdaw conference 2018: time for new era of fighting trade unionism
UCU members vote to end pensions dispute
Bromley libraries - indefinite strike action continues
PCS rejects Acas offer - further strikes announced
Vote for a left, fighting PCS leadership
Avenue School strikers and parents win judicial review
Workers' victory over anti-union Scottish council
---
Vital depiction of fight for Aids prevention and treatment
PO Box 1398, Enfield EN1 9GT
020 8988 8777

Link to this page: https://www.socialistparty.org.uk/issue/991/27229
Home | The Socialist 18 April 2018 | Join the Socialist Party
Subscribe | Donate | Audio | PDF | ebook
Building fund: £150,000 milestone smashed!
Tessa Warrington, building fund organiser
As regular readers of the Socialist will know, the Socialist Party is currently under threat of eviction from our headquarters in London.
It came as a real blow when we discovered last autumn that our landlord was kicking us out to maximise profitability by transforming our offices into luxury flats.
We do not have rich backers. We are based in working class communities, among students and young people who have been hammered by austerity, debt and low pay.
We knew it was a huge task to ask our members and supporters to help us raise the amount needed to move to another London premises.
But as of last week we have smashed through £150,000 in pledged donations. This is an incredible feat of collective sacrifice by determined working class fighters and huge thanks must go to all those who have pledged so far.
Method
How did we do it? We were bold. We asked if comrades could afford to donate a week's income, with payments spread over a number of months.
We did not shy away from asking everyone to contribute; from each according to their ability so that the burden would be shared evenly.
As long as our lives are dominated by the capitalist system we have no option but to rely on money to help us achieve our aims.
Our approach to raising finance shows only a glimpse of what is possible when workers are organised and struggle together.
The secret ingredient is that our members understand the need for a socialist society.
Understanding what is necessary gives us the confidence that the Socialist Party has the right ideas to change the world, and maintaining a presence in London is part of that task. Without this, we could never have hoped to reach this amount.
But we can go beyond £150,000! Every penny on top will only further assist us in finding the best premises we can and fighting for an end to capitalist drudgery.
If you haven't already, please pledge or donate today to the Socialist Party's building fund and join us in fighting for a better future.
---
In this issue
---
What we think

No to the bombing of Syria!
---
Labour Party

For a fighting, democratic Labour Party
---
Socialist Party reports and campaigns

Give us your change (and more) to fight for system change!

Building fund: £150,000 milestone smashed!

The Socialist - a fighting, campaigning, workers' paper

Hull says no to war, no to austerity

Victorious Fearnville Fields campaigners thank the Socialist
---
Socialist Party news and analysis

Young people need homes

1,400 beds empty as patients lay in corridors: health unions must act now

Catalonia: 1m marchers demand self-determination

Billions for the bosses, benefit cuts for us

Them & Us
---
Local elections 2018

Labour councillors could stop unsafe 'driver-only operation' tomorrow

Grimsby local paper reveals Labour candidate 'tried to defect to the Tories'

TUSC campaigners challenge youth club cuts

Huddersfield TUSC takes on the Blairites

Butterfields tenants join TUSC campaign

Haringey TUSC fights Blairite cuts
---
Socialist history

Enoch Powell's racist 'Rivers of Blood' rant 50 years on
---
Workplace news and analysis

Usdaw conference 2018: time for new era of fighting trade unionism

UCU members vote to end pensions dispute

Bromley libraries - indefinite strike action continues

PCS rejects Acas offer - further strikes announced

Vote for a left, fighting PCS leadership

Avenue School strikers and parents win judicial review

Workers' victory over anti-union Scottish council
---
Opinion

Vital depiction of fight for Aids prevention and treatment

The Socialist inbox
---
Home | The Socialist 18 April 2018 | Join the Socialist Party