Local government
---
Workplace news in brief
Pilots ground BA flights over pay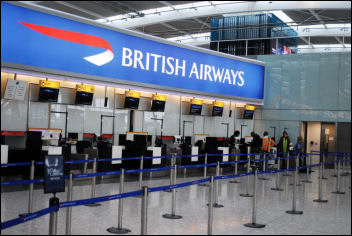 British Airways check-in during cabin crew strike, photo Jules Mattsson
BA pilots took strike action on 9-10 September and have named 27 September for another strike day following management's failure to improve its offer of an 11.3% pay rise spread over three years.
This offer was decisively rejected by 93% of pilots on a turnout of 90% organised by the Balpa union and demonstrates the high level of discontent not only over pay but also over working terms and conditions.
Meanwhile UK-based pilots at Ryanair will be out on a third round of strikes between 18-29 September, again over pay and conditions. These strikes follow the refusal of Ryanair to seriously negotiate and the company's rejection to taking the issues to arbitration. Planned action in Ireland was called off after Ryanair blocked it by obtaining a court injunction.
---
>
Wilko walkouts
Around 1,600 GMB union members at two Wilko distribution centres in Magor, Wales and Worksop, Nottinghamshire, are expecting to strike - although no dates have yet been set.
The GMB said: "More than 84% of votes were cast for strike action. It's clear how angry workers are about this brutal new rota system.
"Wilko prides itself on being a family-run company - but they're imposing contracts that will force staff to work on the weekends, splitting up family time, without the agreement of their employees.
---
>
DVSA strike downs IT
PCS members' continuing month-long strike over working practices and restructures at Driver and Vehicle Standards Agency (DVSA) in Nottingham and Swansea is impacting on the agency's IT systems.
According to the trade magazine MotorTransport, "Hundreds of HGV drivers are in danger of driving illegally after technical problems at DVSA prevented drivers' training records from being uploaded ahead of the Driver CPC deadline, which kicks in at midnight today (9 September 2019)."
---




LATEST POSTS

WHAT'S ON

CONTACT US
Locate your nearest Socialist Party branch Text your name and postcode to 07761 818 206
Regional Socialist Party organisers:
Eastern: 0798 202 1969
East Mids: 0773 797 8057
London: 020 8988 8786
North East: 0784 114 4890
North West 07954 376 096
South East: 020 8988 8777
South West: 07759 796 478
Southern: 07833 681910
Wales: 07935 391 947
West Mids: 02476 555 620
Yorkshire: 0114 264 6551

ABOUT US

ARCHIVE
---

2018

2017

2016

2015

2014

2013

2012

2011

2010

2009

2008

2007

2006

2005

2004

2003

2002

2001

2000

1999