Low-paid
---
Filter by importance | All results
---
14 June 2017

Low-paid work till lunch to make rent
The average low-waged worker gives nearly half of every day's pay straight to private landlords, housing charity Shelter's new statistics have revealed, writes Laurel Fogarty.
16 January 2013

A day in the life... Young, low-paid, bullied and angry
If I'm opening the pub, I start at 9am. A managerial staff member should arrive at 8am to let us in but usually me and another kitchen worker wait for ten minutes, writes Hannah Parker.
6 February 2008

MPs' insult to low-paid workers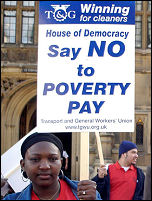 TGWU cleaners demonstrating against low pay, photo Molly Cooper
LOW-PAID public sector workers are facing three years of below-inflation pay rises. Low paid workers earn a fraction of their MP's salary, writes Adrian O'Malley, Unison branch chair, Wakefield and Pontefract Hospitals, Pinderfields Hospital.
7 June 2007

Ritzy - low-paid workers strike again
AFTER A one-day strike on 26 May, staff at Ritzy cinema in Brixton struck again on 1 June. Shop steward Jackie Brethold of the union BECTU spoke to Neil Cafferky.
26 May 2005

Brown bashes low-paid workers
LABOUR'S CONTEMPT for low-paid workers was revealed again last week as Gordon Brown called for "wage discipline" in the public sector...




LATEST POSTS

WHAT'S ON

CONTACT US
Locate your nearest Socialist Party branch Text your name and postcode to 07761 818 206
Regional Socialist Party organisers:
Eastern: 079 8202 1969
East Mids: 077 3797 8057
London: 07748 534 891
North East: 078 4114 4890
North West 079 5437 6096
South West: 077 5979 6478
Southern: 078 3368 1910
Wales: 079 3539 1947
West Mids: 024 7655 5620
Yorkshire: 077 0671 0041

ABOUT US

ARCHIVE
---

2019

2018

2017

2016

2015

2014

2013

2012

2011

2010

2009

2008

2007

2006

2005

2004

2003

2002

2001

2000

1999