Reports and Campaigns

About the Socialist Party

Anti-capitalism

Anti-privatisation

Anti-war

Election campaigns

Environment

Health

Socialist women

Workplace

Youth and Students
---
Anti-racism keywords:
Youth Against Racism in Europe (20)
---
Reports and campaigns:
Stop the slaughter of Tamils (94)
Workplace and TU campaigns (8351)
Related websites
Trade Unionist and Socialist Coalition
National Shop Stewards Network
---
---
4 June 2013

Stopping the BNP in London
The BNP was only able to assemble a small and heavily outnumbered group in central London
4 May 2011

Cardiff activists chase Nick Griffin out of town
Cardiff residents mobilised on Monday 2 May to literally chase BNP leader Nick Griffin out of the city as he attempted to campaign for his party
21 April 2010

Why the BNP offers no way forward for working class people
Jobs and homes - not racism: In last year's European elections the British National Party (BNP) got just under a million votes, 6.4% of the total votes cast...
17 February 2010

BNP's phoney changes
THE FAR-RIGHT British National Party (BNP) has amended part of its constitution to allow non-white people to join, writes Naomi Byron.
25 November 2009

Mobilising to stop Griffin
THE RMT transport trade union, at short notice, called a protest outside Upney tube station in east London against BNP leader Nick Griffin, writes Suzanne Beishon, Hackney Socialist Party.
20 October 2009

Protests at the BBC: No to the far-right, racist BNP
As the Socialist goes to press, Nick Griffin, leader of the far-right racist British National party (BNP) is due to appear on Question Time on Thursday 22 October, writes Hannah Sell.
30 September 2009

No to BNP TV platform
THE BBC has announced that Nick Griffin, leader of the far-right racist BNP, will be invited to take part in Question Time, taking place in London on 22 October.
The BBC's justification is the need for "due impartiality".
This is laughable, writes deputy general secretary Hannah Sell.
1 July 2009

BNP: Looking beneath the suits
THE BRITISH National Party (BNP) diligently cultivates its new image of smart suits and 'legal' respectability, writes Keith Whitehead.
10 June 2009

STOP PRESS: BNP feel the anger
The British National Party leader Nick Griffin attempted to hold a press conference outside parliament on Tuesday 9 June...
13 August 2008

Oppose the BNP 'Festival of Hate'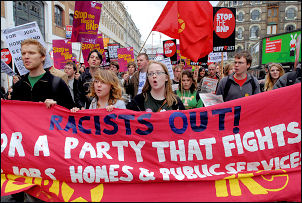 Love Music Hate Racism demonstration 2008, ISR contingent, photo by Paul Mattsson
"WHEN THE cameras weren't there, the mask came off... racist jokes, the fascist salutes... Then, late in the evening in the beer tent, they were playing SS marching songs on a cassette...
23 April 2008

How can we defeat the far right?
The far-right, racist British National Party (BNP) is hoping to gain a seat on the Greater London Assembly on 1 May, as well as more councillors round the country. The Socialist outlines Socialist answers to the far-right.
4 March 2008

Swansea - no sign of Griffin!
Fighting the far right: SWANSEA SOCIALIST Party members were part of a 40-strong Unite Against Fascism protest on Saturday evening outside a city pub which was hosting a British National Party (BNP) meeting addressed by their leader Nick Griffin, writes Alec Thraves, secretary Socialist Party Wales
29 November 2007

Students protest at Griffin and Irving
OXFORD UNION, the upper-crust student debating society, invited Nick Griffin, leader of the far-right, racist BNP and holocaust denier David Irving to a debate on free speech on 26 November...
6 September 2003

Daggers drawn in the BNP
JOHN TYNDALL, ex-leader of the far right British National Party (BNP), has been expelled from the party, writes Naomi Byron.
24 August 2001

Police Mobilise To Protect Fascist 'Festival'
THE REAL role of the capitalist state apparatus was exposed in Mid Wales on Saturday 11 August, when hundreds of riot police from Merseyside and West Mercia joined local police from Dyfed-Powys to protect the BNP, writes Alec Thraves.




LATEST POSTS

WHAT'S ON

CONTACT US
Locate your nearest Socialist Party branch Text your name and postcode to 07761 818 206
Regional Socialist Party organisers:
Eastern: 0798 202 1969
East Mids: 0773 797 8057
London: 020 8988 8786
North East: 0191 421 6230
North West 07769 611 320
South East: 020 8988 8777
South West: 07759 796 478
Southern: 07833 681910
Wales: 07935 391 947
West Mids: 02476 555 620
Yorkshire: 0114 264 6551

ABOUT US

ARCHIVE
---

2017

2016

2015

2014

2013

2012

2011

2010

2009

2008

2007

2006

2005

2004

2003

2002

2001

2000

1999