Fine Gael
---
Irish election: An above average Joe
SOUTHERN IRELAND'S general election for the Dail, Ireland's Parliament, on 24 May gives working-class people a chance to say what they think of the 'Celtic Tiger' economic boom that has made huge profits for big business and the fat cats but little for them.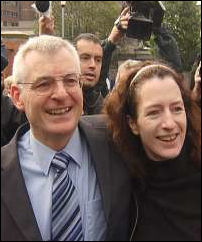 Joe Higgins and Clare Daly
Neither the ruling right-wing Fianna Fail/ Progressive Democrat coalition nor their Fine Gael or Labour opposition have workers' interests at heart. All have an openly big business agenda. For the last ten years, Socialist Party member JOE HIGGINS has been the main TD (Member of Parliament) to express workers' anger and to organise and fight for their rights.
A recent article in the Irish Times, Ireland's main serious journal, reflects the respect and affection that Joe, TD for Dublin West, has in the Dublin area.
Interviewing the man they label 'Average Joe', they say: "Although he's a TD, Higgins only takes home half the salary or the equivalent of the average industrial wage. 'You scrape by,' he says. 'But that's what all ordinary working-class people around here have to do'."
The Irish Times quotes Joe: "The workers spent the last ten years building up the economy while the government ensured big builders and developers reaped the rewards," and comments:
"His constituents are quick to tell you why they are voting for Joe. 'The bin tax,' says Lisa McMurray as Higgins canvasses outside a local school. 'He put his neck on the line for us over the tax, he stood up for us and he went to prison.' Her friend Ann Lynch agrees. 'Our husbands vote for him, they say: you'd better vote for Joe because he's the only one who does anything for anyone in this area. He is well respected around here, even our kids know who he is.'
"Student Alan Armstrong will be voting for the first time. 'I'm just voting for what's good for the area and that's Joe' he says. 'You can see what he does for local people, he gets things done.'
"Average Joe goes for a cup of tea in Harstown Community Centre. Therese Connolly says she has no time for other politicians whom she chases away from the door. 'I only have time for Joe. He stood up for us on the bin tax, on water charges, he protested against the mobile phone mast. He is different to the others. With Joe, what you see is what you get'.
"The way she tells it, he's an above Average Joe."
How many politicians could get such tributes from working-class people? The Socialist Party is standing four candidates in the election. In particular, Joe is seeking re-election and Councillor Clare Daly hopes to win a seat in Dublin North and join Joe in the Dail to strengthen the real working-class opposition.
---




LATEST POSTS

WHAT'S ON

CONTACT US
Locate your nearest Socialist Party branch Text your name and postcode to 07761 818 206
Regional Socialist Party organisers:
Eastern: 079 8202 1969
East Mids: 077 3797 8057
London: 07748 534 891
North East: 078 4114 4890
North West 079 5437 6096
South West: 077 5979 6478
Southern: 078 3368 1910
Wales: 079 3539 1947
West Mids: 024 7655 5620
Yorkshire: 077 0671 0041

ABOUT US

ARCHIVE
---

2019

2018

2017

2016

2015

2014

2013

2012

2011

2010

2009

2008

2007

2006

2005

2004

2003

2002

2001

2000

1999