Transport
---
22 April 2020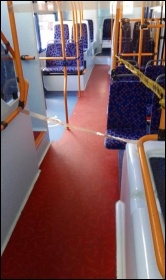 To help protect drivers from infection, union reps on London buses won agreement that the front bus doors would remain closed (Click to enlarge)
London transport: Reject the 'choice' of safety or revenue
Lives before profit
Rob Williams, Socialist Party industrial organiser
Labour London Mayor Sadiq Khan has today warned that Transport for London (TfL) is using its cash reserves and could run out of money by the end of the month because of falling revenues due to the coronavirus pandemic, raising the spectre of the capital's transport workers not being paid. This will undoubtedly be used by London Underground to justify its already announced plans to bring in new timetables from this weekend.

The private bus companies could also try to push back against the fantastic victory won by bus drivers who forced Khan and the bus companies to seal the front door. Socialist Party member and leading Unite union bus driver activist Moe Muhsin Manir played a crucial role in building this campaign. This was done in response to the tragic loss of life of London transport workers to the coronavirus - 29 have now died, the majority of them bus drivers.
But like all workers' victories, it is under constant pressure from the Tory government, big business, TfL and the bus operators, who are determined to get the transport system 'back to normal', even if it means putting more London transport workers at risk.

The unions must demand that there is trade union control over workers' health and safety, with only a return to a full service if agreed by the elected trade union committees.

On the buses, there must be a democratic London-wide union safety committee of union reps to operate a weekly review of the new safety changes that have been instituted, with input from drivers, to ensure that there are no kneejerk reactions to genuine concerns that drivers may have over how they are operating.

Intrinsic in all these measures throughout the transport network must be regular and systematic Covid-19 testing, full availability of PPE and safe commuter capacities.
But the transport unions must together make it clear to Sadiq Khan that workers' safety comes first, before profits.

Tube unions RMT and Aslef have already indicated that they are prepared to ballot for strike action against the ramping up of services that would make social distancing extremely difficult to maintain, if not impossible.

All London transport unions, across the rail and bus network, should build a united front against any steps by management that threaten workers' safety. This should include official strike ballots, along with clear guidance to members that while a ballot is being run, unions will support their members in refusing to work in what they deem an unsafe environment.

Section 44 of the Employment Rights Act 1996 on paper gives workers the legal right not to work in an unsafe environment. While it is a useful tool for workers to utilise with the employer, the most powerful weapon that workers have is taking collective action. Actually, in this regard, making workers aware of Section 44 can be used to give them confidence to take action.

This fighting record has won important victories. As well as that on the buses over the front doors, tube workers have secured 100% pay if furloughed and are now joined by Unite members on the Woolwich Ferry, soon to be re-nationalised.

This is vital to show Khan that it won't be workers who will pay the price for Covid, now or further down the line if management looks to attack pay and conditions. The willingness to take action is the only way to show him that he must demand money off the government. Socialist Party transport workers in London have long called for Khan to lead a mass united struggle against TfL budget cuts with the unions and their members.
The reality is that Sadiq Khan has no excuse not to defy the Tory government and take whatever measures are necessary to ensure a London transport system safe for transport workers and commuting workers alike.

If Khan declared that he was prepared to take TfL into deficit if necessary, like the Militant-led Liverpool Labour city council did when it won millions of extra resources from Margaret Thatcher in the 1980s, would Boris Johnson really risk a conflict over resources for Britain's key transport hub?
The pandemic has put such a fighting strategy centre stage. It has also revealed the utter inadequacy of a bus service run by the private operators. They should be taken back into public ownership in a socialist integrated nationalised transport network.
Donate to the Socialist Party
Finance appeal
The coronavirus crisis has laid bare the class character of society in numerous ways. It is making clear to many that it is the working class that keeps society running, not the CEOs of major corporations.
The results of austerity have been graphically demonstrated as public services strain to cope with the crisis.
The government has now ripped up its 'austerity' mantra and turned to policies that not long ago were denounced as socialist. But after the corona crisis, it will try to make the working class pay for it, by trying to claw back what has been given.
The Socialist Party's material is more vital than ever, so we can continue to report from workers who are fighting for better health and safety measures, against layoffs, for adequate staffing levels, etc.
When the health crisis subsides, we must be ready for the stormy events ahead and the need to arm workers' movements with a socialist programme - one which puts the health and needs of humanity before the profits of a few.
Inevitably, during the crisis we have not been able to sell the Socialist and raise funds in the ways we normally would.
We therefore urgently appeal to all our viewers to donate to our Fighting Fund.
---




LATEST POSTS

WHAT'S ON

15 Jun Bristol North Socialist Party: Education under capitalism

15 Jun Caerphilly & RCT Socialist Party: The socialist approach to the environment

15 Jun Brighton Socialist Party: Disability, neurodivergency, and the left

CONTACT US
Locate your nearest Socialist Party branch Text your name and postcode to 07761 818 206
Regional Socialist Party organisers:
Eastern: 079 8202 1969
East Mids: 077 3797 8057
London: 075 4018 9052
North East: 078 4114 4890
North West 079 5437 6096
South West: 077 5979 6478
Southern: 078 3368 1910
Wales: 079 3539 1947
West Mids: 024 7655 5620
Yorkshire: 078 0983 9793

ABOUT US

ARCHIVE
---

2020

2019

2018

2017

2016

2015

2014

2013

2012

2011

2010

2009

2008

2007

2006

2005

2004

2003

2002

2001

2000

1999