Newham
---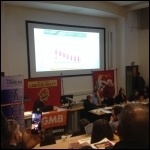 John McDonnell speaking at Newham United Against Austerity meeting, photo Ben Robinson
Newham Labour disunited against austerity
Ben Robinson, East London Socialist Party
Around 80 people gathered in Stratford, east London, to hear shadow chancellor John McDonnell speak alongside Kevin Courtney, NUT deputy general secretary, local MP Lyn Brown, Newham councillors and local union activists.
Kevin Courtney outlined the impact education cuts will have, especially in London, and the NUT's plans for action. John McDonnell opened with the assertion that 'austerity is a political choice' and argued that we need the whole community to move against austerity and to build an alternative.
Unfortunately, the tone from the rest of the platform was far from a fighting lead. The misnamed Newham United Against Austerity was launched by Newham Labour councillors such as John Gray who have implemented vicious cuts in the borough.
The meeting was conducted under the literal backdrop of a chart showing cuts to central government funding for the borough. What the chart, or the speakers, failed to mention was that Newham has £300 million in available reserves, and an eye-watering £1 billion in total reserves!
People made clear their feelings about Newham council's cuts, including housing campaigners forced to move as far away as Birmingham. Others asked if Newham will follow the Unite local government committee decision to call on councils to refuse to implement cuts.
Reserves
Socialist Party members including Lois Austin pointed to the reserves and argued that the council could refuse to implement cuts and build a mass campaign to demand the funding necessary for local services.
Councillor Rokhasana Fiaz claimed that she didn't know the level of reserves, and MP Lyn Brown falsely argued that setting a no-cuts budget would be illegal. Unfortunately, John McDonnell, in his earlier speech, reinforced this stance by referencing the fears around the powers available to a council's chief financial officer.
East London Momentum was launched earlier in January (see the Socialist 886). Newham now has two Labour Party-led groups in one borough. Newham United Against Austerity is attempting to justify cuts, whereas East London Momentum was attended by councillors from Tower Hamlets arguing against cuts. Those councillors, together with Tower Hamlets TUSC, are organising People's Budget meetings to discuss an anti-cuts stance.
The Socialist Party received a good response to our leaflet advertising a People's Budget meeting on 11 February, 7.30pm at Bryant Street Methodist Church in Stratford. We welcome councillors, Momentum supporters, trade union activists and members of the public to join us to discuss how to fight the cuts in Newham.
---




LATEST POSTS

WHAT'S ON

CONTACT US
Locate your nearest Socialist Party branch Text your name and postcode to 07761 818 206
Regional Socialist Party organisers:
Eastern: 0798 202 1969
East Mids: 0773 797 8057
London: 020 8988 8786
North East: 0784 114 4890
North West 07769 611 320
South East: 020 8988 8777
South West: 07759 796 478
Southern: 07833 681910
Wales: 07935 391 947
West Mids: 02476 555 620
Yorkshire: 0114 264 6551

ABOUT US

ARCHIVE
---

2018

2017

2016

2015

2014

2013

2012

2011

2010

2009

2008

2007

2006

2005

2004

2003

2002

2001

2000

1999