Pregnancy
---
New attacks on women's sexual and reproductive rights
Beth Granter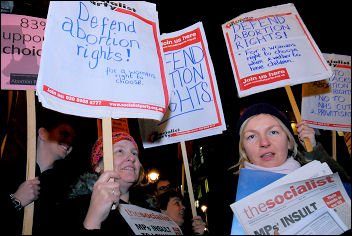 Picket of Tory MP Ann Widdecombe's anti-abortion meeting 6 February 2008, photo Paul Mattsson
Women's sexual and reproductive rights have taken quite a beating in recent weeks. The latest assault comes at the hands of Tory MP and education minister Michael Gove.
He has launched the government's new Sex and Relationships Education Council. All nine "sex and relationship education providers" represented on the council are either pro-abstinence faith groups or anti-abortion education, or both.
LIFE, which opposes abortion even in cases of rape or incest, has been newly appointed, whilst the British Pregnancy Advisory Service (BPAS), with over 40 years of experience of providing sexual health services including abortions, has been kicked off the council.
Reactionary MPs Nadine Dorries (Tory) and Frank Field (Labour) have tabled amendments to the Health and Social Care Bill to require women seeking abortion to receive mandatory counselling from 'independent' organisations.
BPAS called the amendments "misguided and unnecessary". Clearly, Dorries and Field believe women to be incapable of making independent decisions about their bodies without first having to endure 'independent' advice including from anti-choice Pregnancy Crisis Centres. The amendments give no regard to existing counselling services and risk increasing obstacles to abortion.
Earlier this month another Dorries' bill, proposing abstinence teaching for girls aged 13-16 in particular, passed its first reading in parliament with support from the Conservative Christian Fellowship. The bill positions women as the gatekeepers of sexual intercourse and disregards the equal responsibility of men. Abstinence teaching has never been proven to have any positive impact on unwanted teenage pregnancy or Sexually Transmitted Infections rates.
A motion was passed at last month's PCS civil service union conference for PCS to campaign against the bill and to re-affiliate to Abortion Rights. Socialist Party members have been leading a growing campaign against the bill, which you can join at http://facebook.com/stopdorries. It was working class struggles that led to the 1967 Act which legalised abortion.
Each of these actions have been positioned by the government as being in the best interests of women, while their truly ideological impetus is the capitalist drive to reduce services offered to working class single mothers, benefit claimants and NHS patients.
As socialists and feminists we must fight back against every attack the Con-Dem government makes against our human rights, to protect and build upon what previous campaigns have achieved.
Donate to the Socialist Party
Finance appeal
The coronavirus crisis has laid bare the class character of society in numerous ways. It is making clear to many that it is the working class that keeps society running, not the CEOs of major corporations.
The results of austerity have been graphically demonstrated as public services strain to cope with the crisis.
The government has now ripped up its 'austerity' mantra and turned to policies that not long ago were denounced as socialist. But after the corona crisis, it will try to make the working class pay for it, by trying to claw back what has been given.
The Socialist Party's material is more vital than ever, so we can continue to report from workers who are fighting for better health and safety measures, against layoffs, for adequate staffing levels, etc.
When the health crisis subsides, we must be ready for the stormy events ahead and the need to arm workers' movements with a socialist programme - one which puts the health and needs of humanity before the profits of a few.
Inevitably, during the crisis we have not been able to sell the Socialist and raise funds in the ways we normally would.
We therefore urgently appeal to all our viewers to donate to our Fighting Fund.
---




LATEST POSTS

WHAT'S ON

27 Jul Brighton Socialist Party: Material deprivation and the impact on schools

27 Jul Caerphilly and RCT Socialist Party: What is Marxism?

28 Jul Hackney & Islington Socialist Party: How can a mass movement to challenge sexism and violence against women be organised?

CONTACT US
Locate your nearest Socialist Party branch Text your name and postcode to 07761 818 206
Regional Socialist Party organisers:
Eastern: 079 8202 1969
East Mids: 077 3797 8057
London: 075 4018 9052
North East: 078 4114 4890
North West 079 5437 6096
South West: 077 5979 6478
Southern: 078 3368 1910
Wales: 077 7221 5281
West Mids: 024 7655 5620
Yorkshire: 078 0983 9793

ABOUT US

ARCHIVE
---

2020

2019

2018

2017

2016

2015

2014

2013

2012

2011

2010

2009

2008

2007

2006

2005

2004

2003

2002

2001

2000

1999