EMA
---
No cuts, No fees, Bring back EMA
Walkout 14 March
The Con-Dems' cuts represent a potential death blow to the idea of education as a right for all. This includes the axing of EMA student payments for college students, the tripling of unviersity fees, vicious cuts and privatisation programmes across all aspects of education, including the free school and academy scam.
But students are fighting back. Now Socialist Students is building for the biggest possible action on the NUS-called walkout on 14 March. Where the NUS has not put its full weight into campaigning for this, it is unlikely to reflect the scale of students' anger. This must be just the start!
Strike 28 March
Unions representing hundreds of thousands of workers, including lecturers, are planning to strike to defend their pensions on 28 March. Students should join the picket lines at their colleges and universities and refuse to go to classes if they take place. Mass action by trade unions has the power to stop the government's attacks. Workers and students, unite and fight!
---
>
What can students do to defend education?
Ian Pattison, Socialist Students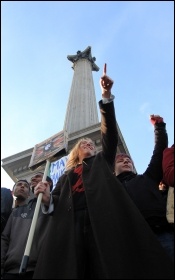 November 24th student demonstrations against tuition fees rises and the abolition of the EMA, photo Senan (Click to enlarge)
Students arriving at university in September will be the first to pay the new £9,000 tuition fees and by that time, EMA student payments could be a thing of the past. Can students do anything to change things?
On Wednesday 14 March, students will walk out as part of the National Union of Students (NUS) national student walkout. NUS has called the walkout over privatisation. But students aren't just walking out to stop the selling off and profiteering of our education by big business.
Quite rightly, students are angry over a whole host of issues - the crippling rise in tuition fees to £9,000, the scrapping of EMA, cuts. Students are also being denied access to healthy food or liveable accommodation on many university campuses. That is why Socialist Students has been campaigning to make sure the demands of the walkout reflect the broad range of issues that students are angry about.
2010 student movement
On 10 November 2010, 52,000 students marched through the streets of London in defence of our education on the NUS-organised demonstration. This gave confidence to students that they weren't alone in fighting back.
Socialist Students gave out 10,000 leaflets on the day calling for mass student walkouts to defend education. Two weeks later, 120,000 school, college, and university students responded to the call. This was despite the fact the right-wing NUS leadership refused to support the walkout.
It was school and college students who organised some of the most successful walkouts in 2010. But these students haven't been included in this year's walkout by the NUS leadership, even though they have as much, if not more, to lose from the attacks on our education.
Schools and colleges
School and college students need to get organised. Activists should look to set up school and college student unions and fight for NUS affiliation. Where this isn't possible, Youth Fight for Education groups could play a similar role of democratically organising the fightback against cuts and to bring back EMA.
When the date of the walkout was announced a month ago NUS president, Liam Burns, said "let's clear out the lecture theatres, the seminar rooms, the ITC suites and the libraries and demonstrate clearly that without students, universities are just empty buildings. Let's work hard together to show that students care and make the national walkout count."
Liam Burns talked 'left' when he stood for election and used anti-fees rhetoric, but has since betrayed all of his campaign promises. The problem with the NUS leadership is that they are tied to New Labour, and are more concerned with pursuing their own careers than properly representing students.
The NUS leadership has not built for the walkout effectively and the numbers who take part on the day are likely to reflect this. But this is not the last chance.
National demonstration
We need a national demonstration in the autumn term with coaches booked from every university in the country. This demonstration should demand free education, the reinstatement of EMA, no cuts and no privatisation. It should be used as a launch pad for a mass movement demanding the right to a decent education.
Mass movements of students and workers can force this millionaire government into retreat. On 28 March, just a fortnight after the walkout, teachers, lecturers, and civil servants are planning to strike together in defence of pensions. Ideally, these two events should have been on the same day.
The pensions sell-out by some of the right-wing trade union leaders means that fewer people will take strike action on 28 March than on 30 November 2011. Regrettably, some striking public sector workers will see this as a step back for their campaign. However, if tens of thousands of students join striking workers' demonstrations, it will give confidence to public sector trade unionists that their fight is not over.
We have to coordinate our action in the future. This will broaden out the student walkout and the public sector strikes to be not just about education and pensions but all cuts. We're already forcing the government and big business back on workfare.
A determined and sustained struggle of students, workers, and the unemployed can stop the attacks on our education, rights and services dead in their tracks.
---




LATEST POSTS

WHAT'S ON

CONTACT US
Locate your nearest Socialist Party branch Text your name and postcode to 07761 818 206
Regional Socialist Party organisers:
Eastern: 079 8202 1969
East Mids: 077 3797 8057
London: 020 8988 8786
North East: 078 4114 4890
North West 079 5437 6096
South West: 077 5979 6478
Southern: 078 3368 1910
Wales: 079 3539 1947
West Mids: 024 7655 5620
Yorkshire: 077 0671 0041

ABOUT US

ARCHIVE
---

2019

2018

2017

2016

2015

2014

2013

2012

2011

2010

2009

2008

2007

2006

2005

2004

2003

2002

2001

2000

1999