PDF
|
Audio
|
2015 Back issues
---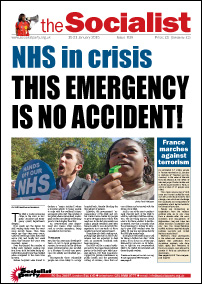 Click image for PDF
Socialist Party news and analysis

NHS in crisis: This emergency is no accident
The NHS is under increasing strain as the crisis in hospitals' Accident and Emergency (A&E) departments deepens. A&E waiting times have been the worst since records began. The number of trolley waits has more than trebled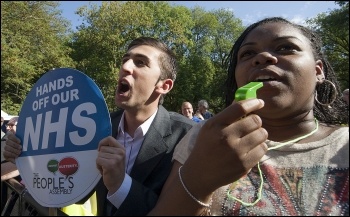 Hands off our NHS! photo Paul Mattsson
---

Billionaires five times richer than in 2004
Fight inequality with socialism: Eye-wateringly massive inequality. An ever-widening wealth gap between the super-rich and the rest of us. Scandalous tax-avoiding arrangements propped up by successive Labour and Tory governments…

Circle vulture flies out of Hinchingbrooke

Stop the Tory strike ban plan

Them & Us
Fat Cat Tuesday: Britain's fat cats are now so wealthy that according to the High Pay Centre their earnings overtake the average worker's salary in less than two days
Trade Unionist and Socialist Coalition

Help build an anti-cuts electoral alternative
Come to the TUSC conference, 24 January: The 7 May general election will be seen by many as an opportunity to ditch the Tory/Liberal Democrat coalition that has imposed the widest and deepest austerity for generations, writes Dave Nellist, TUSC national chair.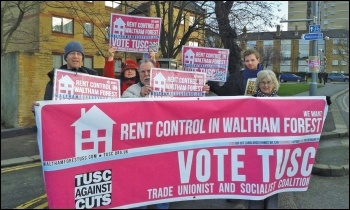 Waltham Forest TUSC supporters campaigning for rent control
---

Socialist Party Election Appeal 2015
The Socialist Party is appealing for £50,000 to help fund our candidates for the 2015 elections, as part of TUSC. Members explain why they are donating
International socialist news and analysis

France: counter terrorist threat with mass unity
The shocking terrorist attacks in Paris, mainly at the journal Charlie Hebdo and in a Jewish supermarket – with 17 victims – was met with mass revulsion and outrage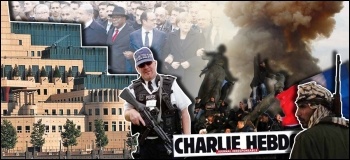 ---

Charlie Hebdo: no to terrorism
Don't let us be divided! Fight against racism!: This statement was written (on 8 January) by Gauche Revolutionnaire (the sister organisation of the Socialist Party in France) in response to the attack on Charlie Hebdo

Sri Lankan elections: Butcher Rajapaksa defeated
In the presidential election held on 8 January in Sri Lanka the incumbent, Mahinda Rajapaksa, suffered a fatal blow. The opposition candidate, Maithripala Sirisena, won with 51.3% against Rajapaksa's 47.6%.

Germany: what is behind Pegida?
Socialist Party workplace news

London bus drivers unite in historic strike action
Bus workers across London struck on 13 January for one rate for the job across all 18 companies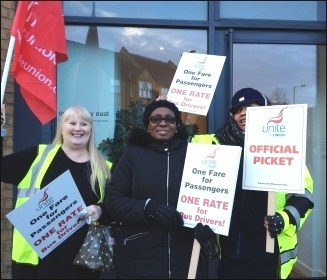 Ash Grove picketers, London bus strike 13.1.15, photo J Beishon
---

Shift change exposes employer's 'family values'

Tesco: shop workers need fighting union leadership
Tesco's first trading statement of 2015 brought further profits warnings, news of cuts and further attacks on workers, writes Scott Jones, Candidate for Usdaw executive South Wales and Western division.

Workplace news in brief
Wales FE strike: Further Education union members in Wales delivered a mandate for strike action over pay in ballots that closed on 5 January
Socialist Party reports and campaigns

A new era for New Era
How tenants and campaigners won against big landlords: Residents of the New Era estate in east London made headlines last year with their campaign against sell-offs and rent hikes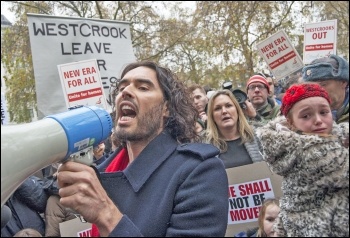 Russell Brand leads protesters on the New Era estate demo outside Westbrook offices in Mayfair, photo Paul Mattsson
---

A strange way to protect public services
I work in a day centre for adults with learning disabilities in Haringey, north London. Three of our four day centres are due to close

Sedgehill School besieged by privateers
In Lewisham, we will be keeping up our fight to oppose academy plans that could threaten the break-up of local authority schooling right across the borough

Freedom Riders ride again

Join the socialists to fight privatisation

Fighting fund targets smashed
The final quarter of fighting fund collection in 2014 surpassed all expectations. We raised a magnificent £34,745 – 138% of the national target – in the three months up to Christmas
Socialist Party comments and reviews

Book review: Eleanor Marx – a life
Eleanor Marx was an extraordinary woman – youngest daughter of an extraordinary man, Karl Marx, and of Jenny, his lifelong partner through revolution and counter-revolution

The straightwashing of Pride
I thoroughly enjoyed seeing Pride (2014) at the cinema last year. The film dramatises the solidarity between LGBT and mining communities during the 1984-85 miners' strike