The Socialist 20 March 2019
Youth strikes show the way - mass action can oust Tories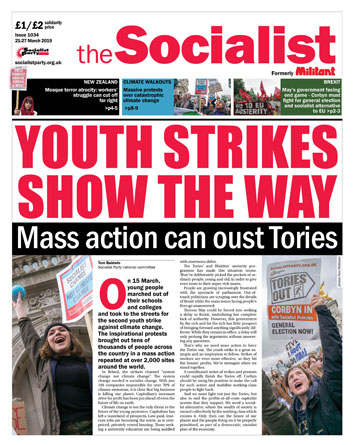 ---
May's government facing endgame
---
End austerity. Fight for a living wage!
New Zealand mosque terror atrocity
Top unis threaten cuts if tuition fees
Cash-strapped schools now 'fourth emergency service'
---
Youth strikes show the way - mass action can oust Tories
Massive protests over catastrophic climate change
---
Victory for Birmingham bin workers
PCS civil servants' union: Vote Yes to strike for better pay
Midlands machine bearing makers launch all-out strike
Hackney school bus workers walk out
---
Socialist Party's Sue Atkins wins big support for anti-cuts, socialist policies
Union fightback key to movement against racism and austerity
Socialist Party Northern conference: Workers are sick of cuts and have the power to fight back
Stop cuts to women's services in Leicester
Help build the workers' press: send May Day greetings to the Socialist!
---
Spanish state: Historic 8 March action
---
Exhibition: Don McCullin - a life in pictures
Theatre: Banner Theatre's Nottingham 'Free for All'
PO Box 1398, Enfield EN1 9GT
020 8988 8777
editors@socialistparty.org.uk