The Socialist 26 June 2019
No to Boris, no to Hunt: general election now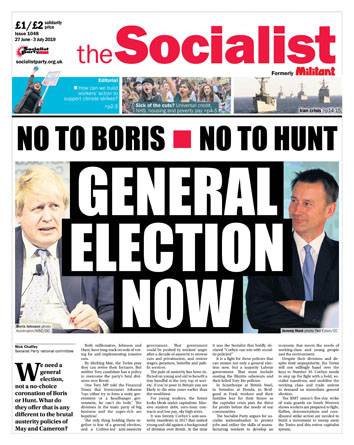 ---
How can we build workers' action to support the climate strikes?
Climate change protests reach important stage
---
No to Boris, no to Hunt: general election now
Universal Credit forces women into prostitution
Charging scandal in Warrington and Halton NHS Trust
Union action can tackle 58% working poverty rate
Unsafe, unaffordable housing scandal
---
Ratcheting up of Iran-US tensions
---
Coordinate the fightback! Come to the 2019 NSSN conference
Unions and campaigners discuss fight to end education crisis
Striking workers defy the race to the bottom at Glasgow and Aberdeen airports
Bridgend NSSN meeting determined to fight for Ford workers
Unison conference: Socialist Party members call for anti-cuts fight and build left challenge
Salisbury South Western Rail strikers determined
Midlands mental health workers walk out against privatisation
Notts college contract dispute
Colloids workers strike to support sacked rep
Harrogate academy workers strike against cuts
---
35th anniversary of the Battle of Orgreave
---
Angry Barking fire victims demand action from landlords and authorities
Hull trade union festival a great success
Stop the Devon and Somerset fire service cuts
---
Opinion: capitalism's Fukushima showed same recklessness as Stalinism's Chernobyl
PO Box 1398, Enfield EN1 9GT
020 8988 8777
editors@socialistparty.org.uk

Link to this page: http://www.socialistparty.org.uk/issue/1048/29313
Home | The Socialist 26 June 2019 | Join the Socialist Party
Subscribe | Donate | Audio | PDF | ebook
Harrogate academy workers strike against cuts
"If it hadn't been for this school I would have ended up in prison" were the words of one former student who came to support the picket line on 20 June, the third day of strike action by members of the NEU, NASUWT and Unison education unions at the Grove Academy in Harrogate.
Socialist Party members joined the picket lines once more to stand shoulder to shoulder with workers fighting the impacts of austerity.
There has been tremendous support from across the education sector locally with a march around the six Harrogate secondary schools that refer students to the Grove seeing head teachers from those schools supporting the strikers and speaking to the media calling for the Grove to be saved.
The immediate threat to the school is that North Yorkshire County Council is cutting £2 million from its budget for pupil referral units across the county, without any plans or proposals for how this will affect the services provided by places like the Grove. After losing 25% of its budget in 2018, the Grove now faces losing a further 25-40%!
A further three days of strike action has been called to continue the pressure to demand a fully-funded service at the Grove.
The strike shows the need for a reversal of the cuts to education by central government and the reintegration of the fragmented education system, with decisions about schools and their funding under the democratic control of staff and parents.
Iain Dalton, Socialist Party North Yorkshire organiser
---
In this issue
---
Climate change

How can we build workers' action to support the climate strikes?

Climate change protests reach important stage
---
Socialist Party news and analysis

No to Boris, no to Hunt: general election now

Universal Credit forces women into prostitution

Charging scandal in Warrington and Halton NHS Trust

Union action can tackle 58% working poverty rate

Unsafe, unaffordable housing scandal

Them & Us
---
International socialist news and analysis

Ratcheting up of Iran-US tensions

Sudan solidarity protests
---
Workplace news and analysis

Coordinate the fightback! Come to the 2019 NSSN conference

Unions and campaigners discuss fight to end education crisis

Striking workers defy the race to the bottom at Glasgow and Aberdeen airports

Bridgend NSSN meeting determined to fight for Ford workers

Unison conference: Socialist Party members call for anti-cuts fight and build left challenge

Salisbury South Western Rail strikers determined

Midlands mental health workers walk out against privatisation

Notts college contract dispute

Colloids workers strike to support sacked rep

Harrogate academy workers strike against cuts
---
Socialist history

35th anniversary of the Battle of Orgreave
---
Socialist Party reports and campaigns

Angry Barking fire victims demand action from landlords and authorities

Hull trade union festival a great success

Stop the Devon and Somerset fire service cuts
---
Opinion

Opinion: capitalism's Fukushima showed same recklessness as Stalinism's Chernobyl

The Socialist inbox
---
Home | The Socialist 26 June 2019 | Join the Socialist Party