The Socialist 19 April 2007
Kick big business out of the NHS
Kick big business out of the NHS
Nurses' fury at cuts and attacks on jobs
NHS London - delivering private health
---
Build for national action against fees
---
Leicester: A principled stand against opportunists
Young socialist standing for Save Huddersfield NHS
Save our NHS campaign fields five candidates in South Lakes
Making a difference in Lincoln
Vote Socialist Alternative on 3 May
---
RMT victory: Union militancy pays
---
Wanted - a new mass party for workers
Campaign for a New Workers' Party Conference
---
Tube workers win big victory over Metronet
Campaigning for a £26,000 minimum wage
Young trade unionists reject New Labour
Greenwich UNISON steps up fight against pay cuts
---
Venezuela: Will the trade unions give up their independence?
Bush's man at the World Bank in corruption scandal
---
Blockading Britain's warhead factory
Fighting for the right to walk in the countryside
Cuts reduce advice for the people who most need help
Bank that only serves the rich
PO Box 24697, London, E11 1YD
020 8988 8777
editors@socialistparty.org.uk

Link to this page: http://www.socialistparty.org.uk/issue/483/2293
Home | The Socialist 19 April 2007 | Join the Socialist Party
Kick big business out of the NHS
Build for a massive national demonstration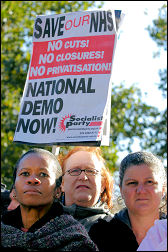 Calling for a national demonstration in 2006, photo Paul Mattsson
HEALTH WORKERS are having to fight hard for their jobs and services. Many will be asking what is happening to the NHS's founding principles, of offering quality health care 'free at the point of delivery' in a publicly owned and run health service?
Keith White
They may also ask what a director of household cleaning company Reckitt Benckiser, a former director of a leading European private equity firm, and an ex-director of well-known health experts Iceland, Mars and British American Tobacco, knows about the NHS!
George Greener has been doing all these big business jobs, some of them simultaneously, for years. Since last year, he has been chair of NHS London, the biggest of ten strategic health authorities, mega-quangos created by New Labour's health 'reforms'. He has gathered round himself a scary crew of enthusiastic devotees of privatisation.
The government's latest focus in the NHS is to make the whole service - now a 'business' worth £90 billion nationally - more 'independent' of political control. According to the Financial Times, one of Gordon Brown's first priorities will be to give new NHS managers, like those running the ten strategic health authorities, greater independence regarding decisions, finance etc.
But independence from politicians certainly does not mean independence from the influence of drug companies and competing private medicine. In fact it is a recipe for more and more private control of the health sector.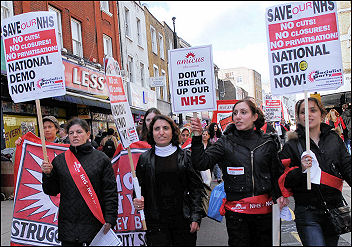 NHS demonstration March 3rd 2007, photo Paul Mattsson
That is one more reason why workers must take action urgently to save the NHS. Health secretary Patricia Hewitt had to make an embarrassing climb-down to junior doctors over the recent training debacle, where up to 9,000 people could have ended up unemployed due to the MTAS and MMC application schemes. Tens of thousands of doctors took to the streets and forced the government to retreat.
This shows that mass action can win victories! Workers at this week's UNISON union health conference are demanding that the union leaders take similar action to save the NHS. Many activists will demand that the unions call a national demonstration as soon as possible.
The protest should not be left to the date that UNISON's leadership has decided - October - but brought forward to the summer period.
But whatever date is chosen, the unions must organise a massive national protest, linking it to industrial action where appropriate. We must show this pro-big business government that workers will fight together against their plans for the NHS.
---
In this issue

Kick big business out of the NHS

Nurses' fury at cuts and attacks on jobs

NHS London - delivering private health
---
Socialist Students

Build for national action against fees
---
Socialist Party election campaign

Election manifesto 2007

Leicester: A principled stand against opportunists

Young socialist standing for Save Huddersfield NHS

Wales manifesto launch

Save our NHS campaign fields five candidates in South Lakes

Nursery cuts campaign launch

Making a difference in Lincoln

Vote Socialist Alternative on 3 May
---
Socialist Party editorial

RMT victory: Union militancy pays
---
Campaign for a New Workers Party

Wanted - a new mass party for workers

Campaign for a New Workers' Party Conference
---
Socialist Party workplace news

Tube workers win big victory over Metronet

Campaigning for a £26,000 minimum wage

Young trade unionists reject New Labour

Greenwich UNISON steps up fight against pay cuts
---
International socialist news and analysis

Venezuela: Will the trade unions give up their independence?

Bush's man at the World Bank in corruption scandal
---
Socialist Party news and analysis

Bosses' Pension

Blockading Britain's warhead factory

Fighting for the right to walk in the countryside

Cuts reduce advice for the people who most need help

Bank that only serves the rich
---
Home | The Socialist 19 April 2007 | Join the Socialist Party