The Socialist 26 April 2007
Blair's legacy: war, cuts and privatisation
Blair's legacy... war, cuts & privatisation
Civil servants' union May Day strike
---
Join the campaign to defeat fees
No victimisation - support Deeside college lecturers
Campaign to Defeat Fees National Meeting
---
New Labour - lowest poll ratings since 1983
Come to the Campaign for a New Workers' Party conference
Campaign for a New Workers' Party conference
Support for Labour falling in Scotland
Campaigning for socialist ideas in South Wales
Huddersfield: Fighting against NHS cuts and closures
Coventry socialists fight Post Office closure
Southampton: Save our Services!
Merseyside: Tweedledee, Tweedledum, Bootle has a real socialist alternative
Manchester Wythenshawe: NHS cuts threaten lives
Donate to fund a socialist alternative
Socialist solidarity on May Day
---
Socialist wins court battle in Kazakhstan
France: Record turnout sees Royal and Sarkozy go through to second round
Yeltsin's real record - 'wild capitalism' in Russia
Nigerian elections - a dangerous farce
---
UNISON Delegates demand action
PO Box 24697, London, E11 1YD
020 8988 8777
editors@socialistparty.org.uk

Link to this page: http://www.socialistparty.org.uk/issue/484/2347
Home | The Socialist 26 April 2007 | Join the Socialist Party
Coventry socialists fight Post Office closure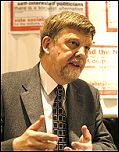 Dave Nellist at Socialist Party congress
COVENTRY SOCIALISTS have reacted angrily to the news that their city centre's Post Office is to close. Councillor Dave Nellist (leader, Socialist Group, Coventry city council and councillor for St Michael's ward), who represents the city centre, said:
"This is another deterioration in service, and a threat to jobs and working conditions, by a Post Office that seems to be preparing itself for privatisation.
"Like many others I have regularly faced waits of 20 minutes or more to get served there not only because of what appears to be understaffing at peak periods, but in particular the knock-on effect of numerous local Post Office closures throughout the city forcing more people to use the main city centre Post Office. We need more and better local postal services not sweetheart deals with big businesses as a preparation for privatisation.
"As local councillors we will be launching a petition against this closure and will look to work with Post Office workers and their union to build the biggest possible protest during the Post Office's consultation period.
"Whilst we will look for support against this closure from other councillors and MPs, there has to come a time when it is recognised that many decisions taken by the Post Office, such as the threatened closure of the Bishop Street sorting office and now the Hertford St main Post Office itself, stem from Labour government decisions undermining the network.
"The government has withdrawn a large amount of its business from the Post Office by its decision to pay most state benefits direct into bank accounts rather than over Post Office counters. The most recent decision like this was the loss of the contract to issue television licences.
"As well as responding to the Post Office consultation we will seek to send a message to the Labour government they must change course and stop wrecking the Post Office."
---
>
Standing for socialism in Coventry
THE SOCIALIST Party has three councillors already in Coventry. However, one of them - Karen McKay in St Michael's ward - is not standing for re-election on 3 May and so the Socialist Party is standing Lindsay Currie in her place.
The Socialist Party is also standing two other candidates in Coventry seats. They are Josie Kenny in Henley and Jason Toynbee in Sherbourne.
In six other seats where we would normally stand, we are supporting pensioners' and left alliance candidates.
---
In this issue

Blair's legacy... war, cuts & privatisation

Civil servants' union May Day strike

Free Arrested activists now
---
Socialist Students

Join the campaign to defeat fees

No victimisation - support Deeside college lecturers

Campaign to Defeat Fees National Meeting
---
Socialist Party election analysis

New Labour - lowest poll ratings since 1983

Come to the Campaign for a New Workers' Party conference

Campaign for a New Workers' Party conference

Support for Labour falling in Scotland

Campaigning for socialist ideas in South Wales

Huddersfield: Fighting against NHS cuts and closures

Coventry socialists fight Post Office closure

Southampton: Save our Services!

Brighton: Stop privatisation

Merseyside: Tweedledee, Tweedledum, Bootle has a real socialist alternative

Manchester Wythenshawe: NHS cuts threaten lives

Donate to fund a socialist alternative

Socialist solidarity on May Day
---
International socialist news and analysis

Socialist wins court battle in Kazakhstan

France: Record turnout sees Royal and Sarkozy go through to second round

Yeltsin's real record - 'wild capitalism' in Russia

US mass shooting horror

Nigerian elections - a dangerous farce
---
Socialist Party workplace news

Support the Sunvic strikers

UNISON Delegates demand action
---
Home | The Socialist 26 April 2007 | Join the Socialist Party