The Socialist 31 May 2007
No to McJobs
---
Protest against the G8 leaders
Protest at arrest and prosecution in Bolivia
---
Campaign brings victory against cuts
Local campaign successes show effective leadership in action
National Shop Stewards Network founding conference
---
Southern Ireland general election: Smaller parties squeezed
Wales - Labour rule under threat
Talking about the 'real world' at Wales TUC
---
A double bonanza for big businesss
Fight against destructive school policies
Stop and question: A dangerous kite to fly
Unhealthy surpluses on NHS underspend
---
Defend and expand public housing
---
Refugee camp siege compounds Lebanon's deep political crisis
---
---
Repression of Gay Pride in Moscow
---
Hull UNISON takes historic step
Remploy try to close factories
PO Box 24697, London, E11 1YD
020 8988 8777
editors@socialistparty.org.uk

Link to this page: http://www.socialistparty.org.uk/issue/489/2448
Home | The Socialist 31 May 2007 | Join the Socialist Party
No to McJobs
Fight low pay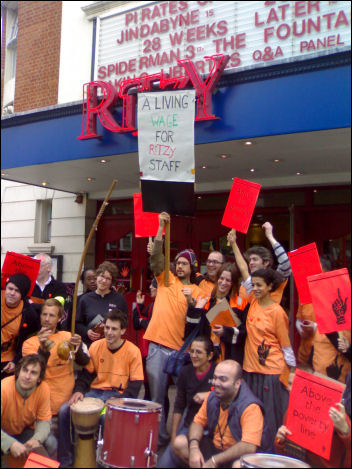 On the picket line at the Ritzy
WORKERS AT Brixton's famous Ritzy cinema in south London were on strike on 26 May, aiming to secure themselves a living wage. At present their employers City Screen pay them the national minimum wage of £5.35 an hour and had offered them a pathetic increase of up to 15p an hour without a sales bonus. They went on strike and formed a picket line.
Roger Shrives
Poverty pay like theirs is unfortunately common, particularly for young workers who regularly talk of the low-paid jobs on offer to them as McJobs - in 'honour' of burger giant McDonald's.
This company claims to be sick and tired of hearing people talk of McJobs as low-paid dead-end employment.
They have produced a petition aimed at persuading Britain's dictionary compilers to change the current definition of McJob to "better reflect the reality of service-sector jobs".
Reality? McDonald's seem to presume that people don't read reports from China where they have been caught underpaying their young workforce, often paying them 40% below the already appallingly low legal minimum wage!
What about Britain? McDonald's specialises in employing workers who are under 21.
Last year around 1.3 million 18-21 year olds were paid less than £6.50 an hour. That is two-thirds of all employees in this age group! In hotels and restaurants, 60% of employees over the age of 25 earn under £6.50 an hour.
These low-wage posts are McJobs for life.
Big Mac and his whoppers obviously embarrass even capitalist gurus. The Financial Times says that McDonald's pathetic petition and attempts to call black white are "the genius of capitalism at work. This is the spirit that took junk bonds and turned them into high-yielding debt, that looked at the third world and saw instead emerging markets."
It points out: "McDonald's is not going to allow the small matter of meaning and popular usage to prevent it from getting its views across."
The working-class movement must see to it that we get our views across too.
International Socialist Resistance (ISR), the socialist youth organisation, has been campaigning against low pay since it was set up. This summer it is starting the Boost our Pay campaign.
Many young workers are furious at the poverty pay and dead-end prospects they face but aren't sure how to turn this anger into action. The key to fighting for better pay and conditions is through united action in the workplace as the Ritzy workers have done, and in linking campaigns together.
However, trade union membership amongst young people is still low - about one in ten. The unions must get organised in workplaces employing low-paid young workers and show that it is possible to fight for a better deal.
Fight for:
An end to low pay and bad working conditions.
The trade unions to take action to implement their current demands for a decent minimum wage, as a step towards a legal minimum of £8 an hour.
---
>
Ritzy Cinema strike
THE RITZY Cinema in Brixton has often been seen as a progressive enterprise with its support for good causes. It recently showed a 'Human Rights Week' season of films. Local people are appalled to find that behind all the liberal pretensions the owners 'City Screen' are just another bunch of cynical, anti-union exploiters who don't give a fig about people's 'rights'.
Andy Tullis, Lambeth UNISON convenor CYPS
Ritzy staff were on strike on 26 May over poverty wages. Currently paid the minimum wage of £5.35 per hour by cinema chain City Screen, staff rejected the company's latest offer of just £5.40 or £5.50 without a sales bonus and notified management of their intention to strike. It transpires that staff even had to take their employers to court to join the cinematograph and entertainment union BECTU.
The lively picket was well received by local people; many cinemagoers refused to buy tickets in disgust at the Ritzy's meanness to its staff.
Workers are on strike this Friday, 1 June in order to secure a living wage. Lambeth Trades Council has pledged its support and local trade unionists will be joining the picket line again on 1 June.
For more information and messages of support, contact BECTU reps on 0207 346 0900 or 0778 859697.
---
>
International Socialist Resistance (ISR)
---
In this issue

No to McJobs
---
G8 Summit protests

Protest against the G8 leaders

Protest at arrest and prosecution in Bolivia
---
Socialist Party campaigns

Campaign brings victory against cuts

Local campaign successes show effective leadership in action

National Shop Stewards Network founding conference
---
International socialist news and analysis

Southern Ireland general election: Smaller parties squeezed

Wales - Labour rule under threat

Talking about the 'real world' at Wales TUC
---
Socialist Party news and analysis

A double bonanza for big businesss

Fight against destructive school policies

Stop and question: A dangerous kite to fly

Unhealthy surpluses on NHS underspend
---
Socialist Party feature

Defend and expand public housing
---
War and terrorism

Refugee camp siege compounds Lebanon's deep political crisis

Protesters cleared
---
Marxist analysis: history

The Merthyr Rising 1831
---
Socialist Party LBGT

Repression of Gay Pride in Moscow

Homophobia: it's not over
---
Socialist Party workplace news

Hull UNISON takes historic step

Remploy try to close factories
---
Home | The Socialist 31 May 2007 | Join the Socialist Party
Related links:

Bosses say 217 years to close pay gap - workers' struggle can close it now!

Mixed-fleet workers show strikes get results

Young people being strangled by debts

Workplace news in brief

Job figures mask casualisation

New play celebrates Grunwick strike

Them & Us