The Socialist 8 November 2007
Sick of the profit system? Come to Socialism 2007
Sick of the profit system? Come to Socialism 2007
---
PCS backs further strike action
Build the left in the public-sector trade unions
---
Martial law imposed in Pakistan
Israel: Café waiters' strike victory
Free detained Nigerian students
---
'Competition' dominated by a few giants
Corporate crime: Sign of an out-of-control economy
Jean Charles de Menezes: Unanswered questions after court case
Why Prince of mortgages resigned
---
Don't just 'celebrate' the NHS - fight back
Staff shortages cause stress and anger
Support strikers at Northern General Hospital
Health workers strike against sacking
---
Education, Education, Education
New schools but not enough rooms
NUT elections: "What are we waiting for?"
---
Fight Royal Mail victimisation
PO Box 24697, London, E11 1YD
020 8988 8777
editors@socialistparty.org.uk

Link to this page: http://www.socialistparty.org.uk/issue/509/3377
Home | The Socialist 8 November 2007 | Join the Socialist Party
Civil service ballot
PCS backs further strike action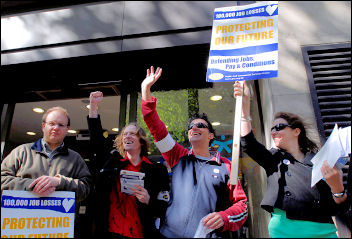 PCS on strike 1 May 2007, photo Paul Mattsson
Public and Commercial Services (PCS) trade union members have voted in favour of further national strike action to defend their jobs, pay and conditions which are under attack. Over 67% of those voting supported the PCS national executive's (NEC) proposals for continuing the campaign combined with action in specific Departmental groups. This is the fourth ballot of its kind which PCS members have supported with an even greater percentage of them voting for action this time.
Mark Baker, PCS NEC, personal capacity
On the day the ballot result was announced, the union received written confirmation from the Cabinet Office confirming new talks aimed at making "meaningful progress and agreement over the next couple of months" on the core issues of the dispute. These are: job losses, relocation, handling civil service-wide aspects of pay and conditions and dealing with employee implications of outsourcing.
Clearly, there is much negotiating to be done before any agreement is reached over these issues but it is nevertheless a significant breakthrough from the employer's previous "no talks while industrial action is on the agenda" position.
They believed our campaign would crumble, but it has only got stronger. The PCS left-led NEC prepared the ground for this ballot result with a series of membership meetings – speaking to over 25,000 members directly during August.
The Cabinet Office have not given a 'no compulsory redundancy' guarantee and some departments where this is threatened may still try to push ahead with them.
The coming weeks will see battles being drawn out between senior civil service "hawks" and government ministers who seem keen to avoid further action with New Labour now behind in the polls.
With the latest ballot confirming further action if necessary, should any of the Whitehall "hawks" make any compulsory redundancies during this period, the NEC would reconvene to consider a date or dates for national action in line with the result of the national consultative ballot.
Combined with this are a number of Group disputes brewing mainly over pay. Members in the largest section, the Department for Work and Pensions are to be balloted for a two-day strike in early December if their management moves to impose a below-inflation pay offer. This offer was overwhelmingly rejected by members.
A number of other Departmental groups will also be balloting and this increases the prospect of co-ordinated action over pay.
The impact would be even stronger if co-ordinated action could be delivered involving all the public-sector unions. Given that Unison are no longer planning action, and the postal section of the CWU leadership are recommending acceptance of the latest offer from Royal Mail, the focus of the TUC will be on coordination for action in the 2008 pay round.
The National Union of Teachers are discussing a possible ballot and action in January and a meeting of the public-sector union leaders is scheduled for 16 November. The co-ordinated action over the public-sector pension age showed that thorough preparation is required to make such action a reality.
PCS will be doing all that it can to help push and support co-ordinated action. Our action so far has yielded significant concessions from the employer and we are now in a strong position to force further retreats from management in the next few months. We do not underestimate this task and members have shown yet again that they are prepared to support our call for further industrial action should it be necessary.
---
In this issue

Sick of the profit system? Come to Socialism 2007
---
Socialist Party workplace news

PCS backs further strike action

Build the left in the public-sector trade unions
---
International socialist news and analysis

Martial law imposed in Pakistan

Israel: Café waiters' strike victory

Free detained Nigerian students
---
Socialist Party news and analysis

'Competition' dominated by a few giants

Stop and search failure

Corporate crime: Sign of an out-of-control economy

Yarl's Wood camp protests

Jean Charles de Menezes: Unanswered questions after court case

Why Prince of mortgages resigned
---
Socialist Party NHS campaign

Don't just 'celebrate' the NHS - fight back

Staff shortages cause stress and anger

Support strikers at Northern General Hospital

Health workers strike against sacking
---
Education feature

Education, Education, Education

New schools but not enough rooms

NUT elections: "What are we waiting for?"
---
Workplace news

Fight Royal Mail victimisation
---
Home | The Socialist 8 November 2007 | Join the Socialist Party