The Socialist 8 November 2007
Sick of the profit system? Come to Socialism 2007
Sick of the profit system? Come to Socialism 2007
---
PCS backs further strike action
Build the left in the public-sector trade unions
---
Martial law imposed in Pakistan
Israel: Café waiters' strike victory
Free detained Nigerian students
---
'Competition' dominated by a few giants
Corporate crime: Sign of an out-of-control economy
Jean Charles de Menezes: Unanswered questions after court case
Why Prince of mortgages resigned
---
Don't just 'celebrate' the NHS - fight back
Staff shortages cause stress and anger
Support strikers at Northern General Hospital
Health workers strike against sacking
---
Education, Education, Education
New schools but not enough rooms
NUT elections: "What are we waiting for?"
---
Fight Royal Mail victimisation
PO Box 24697, London, E11 1YD
020 8988 8777
editors@socialistparty.org.uk

Link to this page: http://www.socialistparty.org.uk/issue/509/3388
Home | The Socialist 8 November 2007 | Join the Socialist Party
Free detained Nigerian students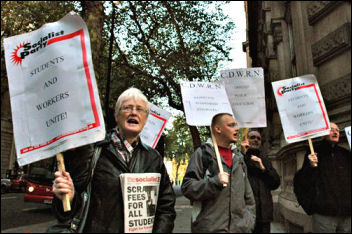 Protest at the UK Nigerian embassy, photo Marc Vallee
THE INTERNATIONAL campaign to free the detained student leaders from Obafemi Awolowo University (OAU) in Ile-Ife, Nigeria, the Democratic Socialist Movement (DSM) and Education Rights Campaign (ERC) is growing.
Saburi Akinola, President of OAU students union; Dairo Olatunde, the students union's public relations officer and Taiwo Hassan, the ERC's national coordinator, are being held on a series of frame-up charges including conspiracy to murder and the attempted murder of the OAU's then vice-chancellor in 2004.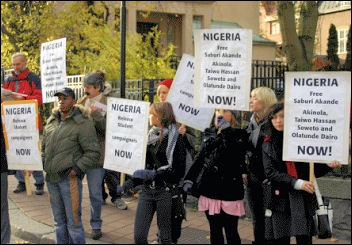 Protest at the Swedish Nigerian embassy
In the last week, apart from protests in Nigeria, there have been sizeable pickets in Athens, Tel Aviv and Moscow (see www.socialistworld.net for details).
Keep sending protest letters urgently to:
Obafemi Awolowo University (OAU) at registar@oauife.edu.ng
OAU vice-chancellor – mfaborode@yahoo.co.uk and mfaborod@oauife.edu.ng
Nigerian Federal Ministry of Education at enquiries@fme.gov.ng and te@fme.gov.ng
Please send copies of all protests to:
campaignworkers@yahoo.co.uk
---
In this issue

Sick of the profit system? Come to Socialism 2007
---
Socialist Party workplace news

PCS backs further strike action

Build the left in the public-sector trade unions
---
International socialist news and analysis

Martial law imposed in Pakistan

Israel: Café waiters' strike victory

Free detained Nigerian students
---
Socialist Party news and analysis

'Competition' dominated by a few giants

Stop and search failure

Corporate crime: Sign of an out-of-control economy

Yarl's Wood camp protests

Jean Charles de Menezes: Unanswered questions after court case

Why Prince of mortgages resigned
---
Socialist Party NHS campaign

Don't just 'celebrate' the NHS - fight back

Staff shortages cause stress and anger

Support strikers at Northern General Hospital

Health workers strike against sacking
---
Education feature

Education, Education, Education

New schools but not enough rooms

NUT elections: "What are we waiting for?"
---
Workplace news

Fight Royal Mail victimisation
---
Home | The Socialist 8 November 2007 | Join the Socialist Party