The Socialist 4 November 2008
Striking against low pay
---
Obama wins, neo-cons routed in US presidential elections
If Obama wins - Looking beyond the hope bubble
---
Canary Wharf: Low paid workers welcome socialist campaigners
Sri Lanka: Acting out oppression
---
1918 revolution: When German workers entered the stage of history
---
New Labour retreats on promises to students
Victory over Tory school closure plan
Austria: Socialist players suspended from football club for anti-fascist activities
Year 9 SATs abolished: Now get rid of the rest!
Republic of Ireland: Student fightback
---
Liverpool City Council: Housing maintenance workers fight for jobs
Fighting for a socialist solution to the crisis in the car industry
Striking for trade union rights
Turkish dockers fight workplace 'massacres'
PO Box 24697, London, E11 1YD
020 8988 8777
editors@socialistparty.org.uk

Link to this page: http://www.socialistparty.org.uk/issue/555/6568
Home | The Socialist 4 November 2008 | Join the Socialist Party
Editorial
George Bush's toxic legacy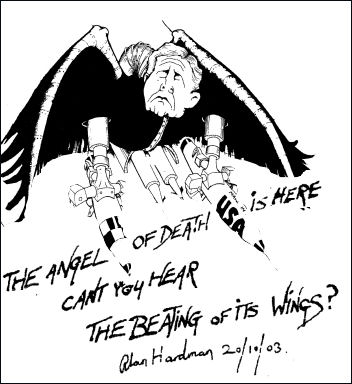 Bush - the angel of death, photo Alan Hardman
As George Bush's last term as US president draws to a close he leaves behind a nightmare legacy that includes an economy in recession, a huge public deficit, a wider gap between rich and poor and the quagmire of the wars in Iraq and Afghanistan. His departure will be celebrated by most workers and the poor in the US and worldwide.
The confrontational foreign policies of Bush and the Republican hawks closest to him have even become too much of a liability for many right wing military and government capitalist representatives around the world. From the likes of Tory David Cameron in Britain, to leading army generals in Israel, tacit or open support has been expressed for Barack Obama.
As election day approached, a wave of excitement and expectation swept across a large layer of the US population, fuelled by hatred of the neo-cons around Bush and a demand for change.
Bush came to power at the end of 2000 through a post-election legal coup. The seeds of the current global economic crisis were already starting to sprout in the US economy just months after Bush's 'victory'. However, the ensuing bubbles in share prices, housing and speculation delayed the inevitable recession which is now breaking out.
Last month, US factory activity fell to its lowest point in 26 years. One US economist concluded: "It means we're in recession....a pretty solid manufacturing recession". Employment figures have fallen to their lowest for 20 years which is clearly illustrated in the crisis in the US car industry. Ford, General Motors and Chrysler (known as the Detroit Three) plan to cut 35 plants which will result in the loss of 10,000 jobs and are planning to cut production by at least a million vehicles by 2012. This will also inevitably impact on car plants in the UK and other parts of the world.
Bush started in office with a budget surplus of $236 billion but bequeaths a deficit of nearly $500 billion as government funds were spent on tax cuts for the rich, and for costly wars - over £600 billion has been spent on the wars in Iraq and Afghanistan.
Recently his administration has been forced to abandon its praise for the neo-liberal, free market economy, and instead bail out banks and financial institutions in order to try to prevent a 1930s type recession. But this is increasing the public debt further, which working class and middle class people will be expected to pay the price for at a future date.
Already five million more Americans have suffered poverty since Bush took power and another seven million people are without health insurance. 45 million US citizens have no health insurance at all and a third have had trouble paying medical bills. The top 1% of Americans receive 21% of all income and the bottom 50% receive just 13%.
The plight of the poor, including many African-Americans, was revealed in September 2005 when hurricane Katrina caused the flooding of New Orleans. The rest of the US as well as the wider world witnessed the extreme class inequality and massive poverty in the world's richest country, as poor people were trapped in rising water levels with a delayed rescue.
Blood on his hands
Bush and his fellow neo-cons pursued aggressive interventions and foreign policy in areas of the world such as the Middle East and Asia. Following 9/11, they declared war on 'terrorism' and 'evil'. By attacking Afghanistan and then Iraq, the US appeared more than ever as the superpower of the world, unstoppable by any force.
But as the death toll and injuries of US soldiers have escalated and the devastation and conflict in Iraq and Afghanistan goes on, more and more Americans oppose the wars. 4,816 Americans serving in Iraq and Afghanistan have died and over 40,000 have been wounded, along with tens of thousands of civilian and other deaths in those countries. The horrors of Guantanamo Bay and other incidences of torture by US special forces have compounded Bush's unpopularity.
Now, while still the largest economic and military power, the limitations of US imperialism's power are being clearly revealed. As well as this being seen in the failed interventions, it is also seen in the fact that despite a military budget of over $500 billion a year, US military forces are overstretched by their present commitments, making further major troop interventions, such as against Iran, impossible. The US is also embroiled in the developing turmoil in Pakistan where there is a growing backlash against its involvement.
The new president - most likely Obama - is inheriting all this. Following the failure of the Bush-led interventions, he will be forced to move away from many of the foreign policy stances taken over recent years. But he will rule in the interests of US imperialism, which means that further military interventions will inevitably occur worldwide.
The new administration is facing an entirely different world situation to that faced by Bush in 2000, and not just regarding military interventions. The global economic crisis will bring new tensions and trade conflicts between the capitalist classes worldwide.
And ruling in the interests of US big business will mean that all the problems suffered by US workers, of job losses, low wages and poor conditions will not be resolved.
This in turn means the new president will also face the beginnings of a re-awakening of struggle by the working class and poor in America - a foretaste of which was shown in the huge numbers of people queuing to vote in the election.
Anti-war protests, demonstrations of immigrants, anger over the aftermath of Katrina, anger at the price of recession and against bank bailouts, have revealed rising opposition to the top politicians, and also a questioning of how the richest country on the planet can have such inequality. The time is coming closer in which US workers will build their own independent political representation.
---
In this issue

Striking against low pay
---
US election

Obama wins, neo-cons routed in US presidential elections

George Bush's toxic legacy

If Obama wins - Looking beyond the hope bubble
---
Socialist Party campaigns

Labour bashes lone parents

Canary Wharf: Low paid workers welcome socialist campaigners

Sri Lanka: Acting out oppression

What recession?

Fast news
---
Marxist analysis: history

1918 revolution: When German workers entered the stage of history
---
Socialist Students

New Labour retreats on promises to students

Victory over Tory school closure plan

Austria: Socialist players suspended from football club for anti-fascist activities

Year 9 SATs abolished: Now get rid of the rest!

Republic of Ireland: Student fightback
---
Socialist Party workplace news

Liverpool City Council: Housing maintenance workers fight for jobs

Fighting for a socialist solution to the crisis in the car industry

Shipyard strike for fair wage

Striking for trade union rights

Turkish dockers fight workplace 'massacres'
---
Home | The Socialist 4 November 2008 | Join the Socialist Party