The Socialist 16 July 2014
819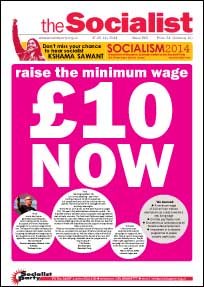 ---
Raise the minimum wage: £10 NOW
Abuse scandals reveal abusive system
Scotland: Threat of a Yes majority forces concessions
Cherry Groce - Met apologises 29 years later
Con-Dems and Labour fast-track 'snoopers charter'
---
J10 strike success: Now build movement to end low pay
Reports from 10 July pickets and demonstrations
NSSN: Packed out London J10 post-demo meeting
---
Solidarity protests against Israeli state terror
---
Tyneside Safety Glass strikers' stunning victory
Eve-of-strike success for Look Ahead Unite members
Napo election: militant strategy can defeat privatisation
---
Leicester anti-cuts councillors join up with TUSC
Royal Mail: Profits for rich, insecurity for workers
SWP's Marxism: absence of serious debate and strategy
PO Box 24697, London, E11 1YD
020 8988 8777
editors@socialistparty.org.uk

Link to this page: http://www.socialistparty.org.uk/issue/819/18960
Home | The Socialist 16 July 2014 | Join the Socialist Party
Subscribe | Donate | PDF | ebook
Raise the minimum wage: £10 NOW
"If we are to stop future generations spiralling into never ending poverty, we have to support and more importantly campaign for a minimum wage of £10 now. The days of the state having to prop up bad employers who exploit workers by paying dramatically low wages has to be brought to an end. If politicians don't agree then we need to change them."
Ronnie Draper, General secretary Bakers, Food & Allied Workers Union
---
>
"I'm a teaching assistant. My job is very satisfying - apart from the financial part. At 29 it's a good job - but my girlfriend and I still live at home with my parents. It's the only way we've managed to save anything meaningful.
The strike on 10 July was my first [see reports on pages 2-3]. This year's Tolpuddle festival will also be my first. The Tolpuddle martyrs' sacrifice was an inspiration that signified the start of trade unionism. The Fast Food Rights campaign initiated by the bakers' union also reflects a new era; one that will require tremendous fighting spirit and sacrifice. But these new layers of workers will have the experience and the support of experienced trade unions to help.
These current strikes are also a source of hope and inspiration for the un-unionised, the new layer of trade unionists and anyone who rejects austerity. With the historic victory of the $15 minimum wage in Seattle and the launch of our own £10 an hour campaign socialists have the programme to inspire people."
Phil Snider, Southampton Socialist Party
---
>
"All trade unions and especially the GMB need to campaign for wages not benefits. People need a living wage you can actually live on. People need to get organised in unions to campaign for this where they work. In the end, only unions can make work pay."
Martin Smith, GMB national organiser
---
>
We demand:
A minimum wage of £10 an hour without exemptions as a step towards a real living wage
End the pay freeze now!
End zero-hour contracts and all forced under-employment
Investment in a massive programme to create socially useful jobs
---
In this issue
---
Socialist Party news and analysis

Raise the minimum wage: £10 NOW

Abuse scandals reveal abusive system

Scotland: Threat of a Yes majority forces concessions

Cherry Groce - Met apologises 29 years later

Con-Dems and Labour fast-track 'snoopers charter'

Them & Us
---
10 July public sector pay strike

J10 strike success: Now build movement to end low pay

Reports from 10 July pickets and demonstrations

NSSN: Packed out London J10 post-demo meeting
---
International socialist news and analysis

No more onslaught on Gaza!

Solidarity protests against Israeli state terror
---
Socialist Party workplace news

Tyneside Safety Glass strikers' stunning victory

Eve-of-strike success for Look Ahead Unite members

Napo election: militant strategy can defeat privatisation

Workplace news in brief
---
Reports and comments

Leicester anti-cuts councillors join up with TUSC

Royal Mail: Profits for rich, insecurity for workers

Obituary - John Hayes

SWP's Marxism: absence of serious debate and strategy
---
Home | The Socialist 16 July 2014 | Join the Socialist Party