The Socialist 15 February 2017
March to save our NHS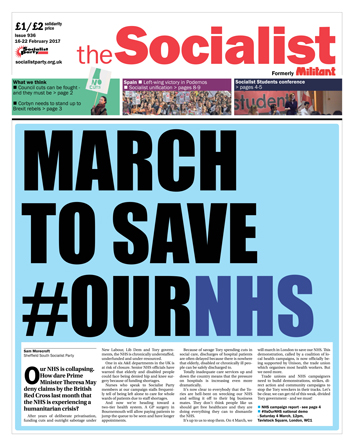 ---
Council cuts can be fought - and they must be
Corbyn needs to stand up to Brexit rebels
---
Resist Trump and his rotten policies: why I'm walking out on 'Day X'
Socialist Students: growing, brimming with confidence
Thousands march to defend Glenfield heart centre
Save child refugees, fight the cuts
---
Spain: clear win for left at Podemos conference!
CWI and Izquierda Revolucionaria - towards unification
Izquierda Revolucionaria central committee meeting
France: police attack triggers protests
---
United fightback needed as entire grade of rail worker is at stake
"Disgraceful" treatment of sacked EHRC workers
Vibrant Picturehouse pickets in continued living wage strike
Ultimatum as Deliveroo drivers down tools in Brighton
Solidarity with Tesco Ireland Valentine's Day strike
PCS union pledges to fight Jobcentre job losses
---
Anti-trade union laws used against 'Trees Action' protesters
Support floods in for the Cardiff no-cuts three
The Socialist: 20 years old and more important than ever
Toxic fracking could start in England in 2017
May Day greetings in the Socialist
---
No, Trumpism is nothing like Leninism
Foreign aid's not the problem - it's capitalist thieves
Vivid visual account of the Paris Commune
PO Box 1398, Enfield EN1 9GT
020 8988 8777
editors@socialistparty.org.uk

Link to this page: http://www.socialistparty.org.uk/issue/936/24612
Home | The Socialist 15 February 2017 | Join the Socialist Party
Subscribe | Donate | Audio | PDF | ebook
No, Trumpism is nothing like Leninism
Nick Chaffey, Socialist Party Southern region
Steve Bannon, chief strategist to US President Donald Trump, once called himself "a Leninist" - to the delight of Victor Sebestyen, a journalist for the Times, Spectator and Standard.
Sebestyen puts Bannon and Lenin together in a 'Comment is Free' article for the Guardian to demonise his two foes by showing their alleged similarities. "Bannon has an assortment of Leninist political tactics that could have come from the Bolshevik leader's playbook."
How could Steve Bannon, investment banker, former vice-president at Goldman Sachs and founder of 'alt-right' blog Breitbart News, call himself a Leninist? Vladimir Lenin was the leader of the Russian revolution that ended Russian capitalism and formed the first democratically elected workers' government in history!
In 2013, Bannon apparently said: "Lenin wanted to destroy the state and that's my goal too." Bannon seems to see the capitalist state as an obstacle to maximising the capitalists' profits.
But for Lenin, the capitalist state ensured the capitalists' economic interests were maintained. The goal of the first workers' state was instead to ensure that the majority ruled in the interests of the majority. Through the 'soviets', democratic workers' councils, elected representatives from workplaces formed a government at local, regional and national levels.
Traditional conservatives like Sebestyen fear the right-wing populism of Trump, with his blows against the institutions of capitalism such as the judiciary, press, and free trade agreements. Trump's populism threatens their control.
But they are even more fearful of the insurgent left. Bernie Sanders' campaign against the billionaire class threatened the Democratic establishment of Hillary Clinton and her Wall Street allies. They fear the renewed interest in socialist ideas, growing mass protests, and struggles like the fight for a $15 minimum wage.
But how could Sebestyen conflate such diametrically opposed ideas? The title of his latest book, 'Lenin the Dictator', makes his intentions clear.
This is a familiar rehash of the view that the vicious Stalinist bureaucratic counter-revolution that emerged after the death of Lenin was inevitable, and a seamless transition. It ignores the material basis for this, following the isolation of the Russian revolution after the destructive years of civil war, and the defeat of other revolutions, especially in Germany from 1918 to 1923.
From here, the first democratic workers' government in history is slanderously heaped together with Stalin's forced labour camps. Sebestyen adds in a dose of unsubstantiated character assassination in his attempt to bury Lenin and the Russian revolution.
Lenin was committed to the international struggle of the working class to replace the capitalist system of war, poverty and inequality with a socialist world - one where working class people democratically own and plan production to meet the needs of all. He was committed to building a mass revolutionary party with a clear Marxist understanding of capitalism, the Bolsheviks.
The Bolsheviks alone put forward a programme to satisfy the needs of the masses; "peace, bread and land." Their decisive leadership - while other political forces made compromises with the capitalists - led them to win a majority in the soviets, and end Russia's involvement in the bloodbath of World War One.
Lenin was critical of all that stood in the way of the working class; the capitalists themselves, their media allies, and their shadows in parts of the leadership of the workers' movement. His 'guilt' is his role in the abolition of capitalism and landlordism in Russia, and the example it offers today in this new era of capitalist crisis and revolution.
History of the Russian Revolution by Leon Trotsky, £20
Ten Days That Shook the World by John Reed, £7
In Defence of October by Leon Trotsky, £1
The April Theses by VI Lenin, £2
National Liberation, Socialism and Imperialism by VI Lenin, £7
Add 20% postage. Available from leftbooks.co.uk
bookshop@socialistparty.org.uk
PO Box 24697, E11 1YD
020 8988 8789
---
In this issue
---
What we think

Council cuts can be fought - and they must be

Corbyn needs to stand up to Brexit rebels
---
Socialist Party news and analysis

March to save #OurNHS

Resist Trump and his rotten policies: why I'm walking out on 'Day X'

Socialist Students: growing, brimming with confidence

Thousands march to defend Glenfield heart centre

Save child refugees, fight the cuts

Prison deaths scandal

Super-rich subsidised
---
International socialist news and analysis

Spain: clear win for left at Podemos conference!

CWI and Izquierda Revolucionaria - towards unification

Izquierda Revolucionaria central committee meeting

French presidential election

France: police attack triggers protests

Yemen solidarity
---
Workplace news and analysis

United fightback needed as entire grade of rail worker is at stake

"Disgraceful" treatment of sacked EHRC workers

Vibrant Picturehouse pickets in continued living wage strike

Ultimatum as Deliveroo drivers down tools in Brighton

Solidarity with Tesco Ireland Valentine's Day strike

PCS union pledges to fight Jobcentre job losses

Workplace news in brief
---
Socialist Party reports and campaigns

Anti-trade union laws used against 'Trees Action' protesters

Support floods in for the Cardiff no-cuts three

The Socialist: 20 years old and more important than ever

Toxic fracking could start in England in 2017

May Day greetings in the Socialist

New Socialist Party press
---
Socialist readers' comments and reviews

No, Trumpism is nothing like Leninism

Foreign aid's not the problem - it's capitalist thieves

Vivid visual account of the Paris Commune

The Socialist inbox
---
Home | The Socialist 15 February 2017 | Join the Socialist Party