The Socialist 15 March 2017
NHS: strikes and protests can stop cuts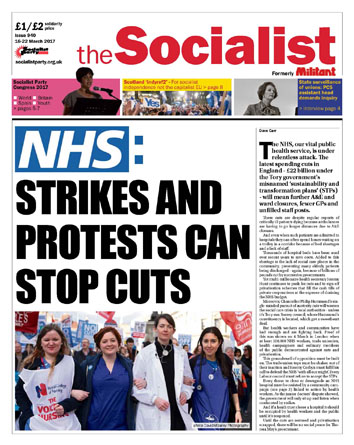 ---
Scotland 'indyref2' for socialist independence not the capitalist EU
State surveillance of unions: PCS assistant head demands inquiry
TUSC: SWP suspends participation in England/Wales
---
NHS: strikes and protests can stop cuts
Glenfield heart unit: "Children will die" angry parents tell NHS England
---
Socialist Party Congress 2017 reports
---
2,000 workers on three rail networks strike against driver-only operated trains
Derby teaching assistants' all-out strike against Labour council
Unison HE conference: Delegates give the bureaucracy a lesson in democracy
---
---
International Women's Day: taking action against capitalist oppression
---
Disabled workers deserve a living wage
'Nurses are angry and we are ready for action'
Women's struggles reduced to perfume sales and career ladder
PO Box 24697, London, E11 1YD
020 8988 8777
editors@socialistparty.org.uk

Link to this page: http://www.socialistparty.org.uk/issue/940/25022
Home | The Socialist 15 March 2017 | Join the Socialist Party
Subscribe | Donate | Audio | PDF | ebook
TUSC: Socialist Workers Party suspends its participation in England and Wales
Clive Heemskerk, TUSC national election agent
The Socialist Workers Party (SWP) has announced that it is suspending its participation in the Trade Unionist and Socialist Coalition (TUSC) in England and Wales.
This follows the debate at the recent TUSC conference which expressed support for standing candidates, on a selective basis, in this May's council elections.
The resolution calling on the TUSC national steering committee to process candidate applications was agreed by the other two constituent organisations of TUSC - the RMT transport workers' union and the Socialist Party - and almost all independent TUSC members.
During the conference debate the SWP spokesperson Charlie Kimber made it clear that the SWP would "not be able to take political responsibility for candidates standing" in England and Wales if that was the decision taken. So suspending their membership is not unexpected.
The suspension does not apply to Scotland, however, where Scottish TUSC organises autonomously. The SWP is standing candidates in the council elections there. This is justified, according to the SWP, because Scottish Labour "is headed up by the anti-Corbyn Kezia Dugdale [and] the rise of the Scottish National Party has raised the question of alternatives to Labour" (Socialist Worker, 8 March).
The political context in Scotland is clearly different - but qualitatively so? Labour in Wales, for example, is led by the anti-Corbyn Welsh first minster Carwyn Jones, right-wing Blairite councillors dominate local government, and Plaid Cymru is able to pose as a radical alternative. Why does this not mean that TUSC should stand candidates in Wales?
Ruthless cuts
The big majority of Labour's 7,000 local councillors oppose Jeremy Corbyn and, as the Socialist Worker article says, are "ruthlessly imposing Tory cuts". How would giving these councillors a free run at the ballot box in England and Wales help "Corbyn-supporting Labour members" in their fight against them?
Even more importantly, how would it convince working class voters disgusted at their local Labour council's 'ruthless cuts', not to turn to the Liberal Democrats, Greens or Ukip as an alternative to Labour?
The steering committee is meeting on 22 March and will discuss its response to the SWP's withdrawal.
It will also decide on the latest applications to be TUSC candidates, guided by the conference decision - not to have 'candidates everywhere' but to make sure they are part of a serious campaign against cuts to local public services and will strengthen the battle against the right wing in Labour Party and the unions.
---
In this issue
---
Socialist Party news and analysis

Scotland 'indyref2' for socialist independence not the capitalist EU

State surveillance of unions: PCS assistant head demands inquiry

TUSC: SWP suspends participation in England/Wales
---
Save our NHS!

NHS: strikes and protests can stop cuts

Glenfield heart unit: "Children will die" angry parents tell NHS England
---
Socialist Party congress 2017

Socialist Party Congress 2017 reports
---
Socialist Party workplace news

2,000 workers on three rail networks strike against driver-only operated trains

Derby teaching assistants' all-out strike against Labour council

Unison HE conference: Delegates give the bureaucracy a lesson in democracy
---
Fighting racism

Fight racism and austerity
---
International Women's Day

International Women's Day: taking action against capitalist oppression
---
Socialist Party comments and reviews

Disabled workers deserve a living wage

'Nurses are angry and we are ready for action'

Women's struggles reduced to perfume sales and career ladder
---
Home | The Socialist 15 March 2017 | Join the Socialist Party
Related links:

Doncaster TUSC election rally: Tories Out, Corbyn4PM, Socialist Steve for mayor

Merseyside TUSC pre-election public meeting

TUSC council candidate vows never to go to the 'dark side'!

Doncaster mayoral election: Socialist Steve campaign diary

Energetic start to TUSC local election campaigning

Benefits workers oppose 'rape clause' and two-child limit

Buses and buggies: a driver speaks

What kind of movement is needed to save our NHS?

Weapons workers continue pension strike

Cardiff: Labour right rattled by anti-cuts TUSC

The Socialist Inbox

Save Cardiff's live music venues

Debates on building the anti-Trump movement

Newcastle: Socialist Party defies ban to counter the far-right

Len McCluskey re-election - a defeat for the right

TUSC backs RMT Save Our Guards campaign, while local Labour Party blocks debate

French presidential election: Mélenchon campaign gains momentum

Them & Us

Last quarter's fighting fund target smashed, now make our voice heard in elections

School cuts can be beaten

Turkey: constitutional referendum result a pyrrhic victory for Erdogan

Fight the Sun's bigoted lies

What we saw

Scotland 'indyref2' for socialist independence not the capitalist EU

Livingstone, Labour and anti-Semitism

Defeat the millionaires' Tory government

Doncaster: Socialist Steve's growing support
Trade Unionist and Socialist Coalition:

Labour group to discipline councillors for resisting Haringey gentrification scheme