The Socialist 15 March 2017
NHS: strikes and protests can stop cuts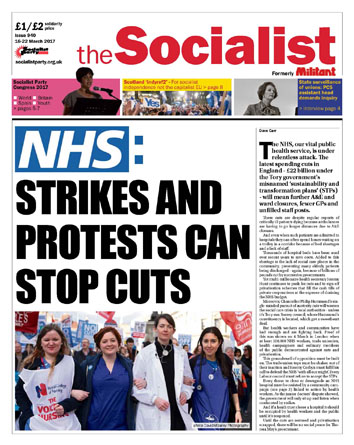 ---
Scotland 'indyref2' for socialist independence not the capitalist EU
State surveillance of unions: PCS assistant head demands inquiry
TUSC: SWP suspends participation in England/Wales
---
NHS: strikes and protests can stop cuts
Glenfield heart unit: "Children will die" angry parents tell NHS England
---
Socialist Party Congress 2017 reports
---
2,000 workers on three rail networks strike against driver-only operated trains
Derby teaching assistants' all-out strike against Labour council
Unison HE conference: Delegates give the bureaucracy a lesson in democracy
---
---
International Women's Day: taking action against capitalist oppression
---
Disabled workers deserve a living wage
'Nurses are angry and we are ready for action'
Women's struggles reduced to perfume sales and career ladder
PO Box 24697, London, E11 1YD
020 8988 8777
editors@socialistparty.org.uk

Link to this page: http://www.socialistparty.org.uk/issue/940/25025
Home | The Socialist 15 March 2017 | Join the Socialist Party
Subscribe | Donate | Audio | PDF | ebook
Unison HE conference: Delegates give the bureaucracy a lesson in democracy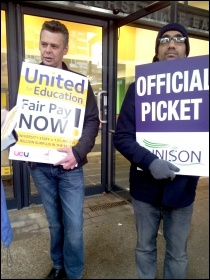 A Unison member (right) striking alongside a UCU member at the University of East London 31.10.13, photo P Mason (Click to enlarge)
Socialist Party delegates
Unison delegates to the higher education conference on 2 March reminded the service group executive (SGE) who's in charge by defeating them on a number of questions.
The overwhelming mood of conference was one of defiance, with many still visibly angry about the leadership overturning a 55% vote for strike action in the summer of 2016, using low turnout as an excuse to derail any chance of a fightback.
This decision not only meant that members were forced to accept a further derisory (1.1%) pay rise but demoralised activists who had confidently campaigned to win the vote for action.
One delegate explained that he was the only person from his branch at the conference as others had given up, but that he'd be back next year to continue fighting.
Delegates lined up to condemn the lack of a fighting strategy and demand more accountability, passing a motion which committed the SGE to publish voting information on all important decisions.
One motion calling for an independent inquiry into the lack of effective action over pay was opposed by the SGE, but by the time it was heard they couldn't find anyone to speak against it! It was passed with a handful of votes against.
Socialist Party delegates argued for a strategy to win a meaningful victory on pay in 2017 and were instrumental in conference passing a motion committing the SGE to support the £10 an hour minimum wage demand.
Unison members who want a fightback against privatisation, outsourcing and casualisation of higher education services should support and campaign for Unison Action candidates Kath Owen and Sandy Nicoll.
---
In this issue
---
Socialist Party news and analysis

Scotland 'indyref2' for socialist independence not the capitalist EU

State surveillance of unions: PCS assistant head demands inquiry

TUSC: SWP suspends participation in England/Wales
---
Save our NHS!

NHS: strikes and protests can stop cuts

Glenfield heart unit: "Children will die" angry parents tell NHS England
---
Socialist Party congress 2017

Socialist Party Congress 2017 reports
---
Socialist Party workplace news

2,000 workers on three rail networks strike against driver-only operated trains

Derby teaching assistants' all-out strike against Labour council

Unison HE conference: Delegates give the bureaucracy a lesson in democracy
---
Fighting racism

Fight racism and austerity
---
International Women's Day

International Women's Day: taking action against capitalist oppression
---
Socialist Party comments and reviews

Disabled workers deserve a living wage

'Nurses are angry and we are ready for action'

Women's struggles reduced to perfume sales and career ladder
---
Home | The Socialist 15 March 2017 | Join the Socialist Party
Related links:

Excellent Socialist Party trade union meeting

Derby teaching assistants accept offer to end pay dispute

Salford Socialist Party: Unison - the Defend the Four story

PCS ballot papers out: vote Democracy Alliance

PCS election: Vote Democracy Alliance

Socialism would extend democracy

Socialist Party Congress 2017 reports

What went wrong in Russia?

Trotskyism: what is it?

Hilarious, innovative satire on state bureaucracy

School cuts can be beaten

Solid strike across the rail network against unsafe driver-only operation

Joint struggle can stop tuition fee interest hike

Mood for a fightback at education conferences

Carlisle NHS privateers leave patients at risk