The Socialist 17 May 2017
Kick out the Tories! For a Corbyn-led government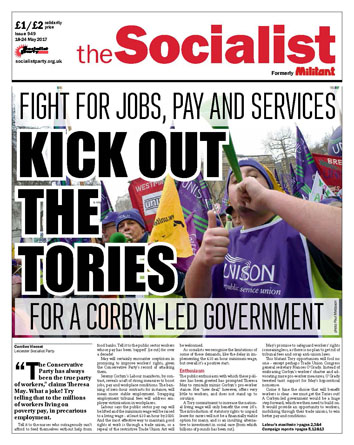 ---
Kick out the Tories: For a Corbyn-led government
Tories out! Corbyn can win with socialist policies
Corbyn's manifesto: An important step in the right direction
TUSC confirms no candidates in June
Suprise rally with Jeremy Corbyn in Morley
Corbyn's alternative for young people
Corbyn could re-win Scotland with a socialist approach to independence
---
One in three borrow for rent, Corbyn pledges housing revolution
Tories escape election fraud charges
NHS cyberattack: budget cuts and spy agency to blame
31,000 more kids at risk of abuse or neglect
---
PCS election: Increased majority for Democracy Alliance
Support Corbyn's call to renationalise Royal Mail
CWU walkout wins large concessions
Blackpool deserves better - anti-austerity rally
Unison must back Corbyn's pledge to abolish zero-hour contracts with action
---
Socialist ideas are energising young people
Fund the fight against the Tories
Packed meeting sets out socialist policies needed to defeat the Tories
---
Palestinian prisoners on mass hunger strike protest
Brazil: General strike against Temer regime
---
Barcelona May Days 1937 - a civil war within a civil war
Hull workers who fought in the Spanish Civil War
PO Box 24697, London, E11 1YD
020 8988 8777
editors@socialistparty.org.uk

Link to this page: http://www.socialistparty.org.uk/issue/949/25481
Home | The Socialist 17 May 2017 | Join the Socialist Party
Subscribe | Donate | Audio | PDF | ebook
General election finance appeal
Fund the fight against the Tories
Ken Douglas, Socialist Party national treasurer
We are appealing to all readers of the Socialist for a donation to help us with the costs of producing our election leaflets, posters and other material.
Socialist Party members are out campaigning in support of Jeremy Corbyn's key demands: including the renationalisation of the railways and Royal Mail, more money for the NHS and the abolition of tuition fees and zero-hour contracts.
Blairites
In Stoke, Labour Party members commented on how good our leaflets were and took them to give out to friends. Some even said that we're doing a better job at promoting Corbyn's policies than the Labour Party!
Of course that's not news to us. We know that the majority of right-wing Blairite MPs, who also control the party machine, would rather Corbyn lose this election.
The daily onslaught against him from the capitalist establishment, from Labour grandees like Mandelson and Blair, underlines the importance of us campaigning on the streets, with rallies and protests, and with material that can reach workers and young people to convince them that we can kick the Tories out and end austerity.
Finance is vital to ensure our ideas reach as wide an audience as possible and this election is a great opportunity to build support for socialist ideas and show how a socialist programme to gain control over the economy and the wealth that is produced could change our lives.
We have spent over £5,000 so far on leaflets, posters and a four-page manifesto that shows both what's necessary to achieve Corbyn's programme and the need to take it much further.
We are also spending money on equipment to produce weekly Facebook broadcasts.
Whatever the result on 8 June we will continue to do what is necessary to help build a movement that can achieve that transformation.
We haven't got the Tories' millionaire backers and press barons and we have no rich funders. We depend solely on support and donations from ordinary people.
Can you help us? You can donate via our website www.socialistparty.org.uk/donate or telephone 020 8988 8777
---
In this issue
---
Kick out the Tories! Corbyn can win

Kick out the Tories: For a Corbyn-led government

Tories out! Corbyn can win with socialist policies

Corbyn's manifesto: An important step in the right direction

TUSC confirms no candidates in June

Suprise rally with Jeremy Corbyn in Morley

Corbyn's alternative for young people

Corbyn could re-win Scotland with a socialist approach to independence
---
Socialist Party news and analysis

One in three borrow for rent, Corbyn pledges housing revolution

Tories escape election fraud charges

NHS cyberattack: budget cuts and spy agency to blame

31,000 more kids at risk of abuse or neglect
---
Socialist Party workplace news

PCS election: Increased majority for Democracy Alliance

Support Corbyn's call to renationalise Royal Mail

CWU walkout wins large concessions

Blackpool deserves better - anti-austerity rally

Unison must back Corbyn's pledge to abolish zero-hour contracts with action

Workplace news in brief
---
Socialist Party reports and campaigns

Socialist ideas are energising young people

Fund the fight against the Tories

Packed meeting sets out socialist policies needed to defeat the Tories
---
International socialist news and analysis

Palestinian prisoners on mass hunger strike protest

Brazil: General strike against Temer regime
---
Socialist Party comments and reviews

Barcelona May Days 1937 - a civil war within a civil war

Hull workers who fought in the Spanish Civil War

The Socialist inbox
---
Home | The Socialist 17 May 2017 | Join the Socialist Party
Related links:

'When we fight, we can win' - campaign halts hospital closure

British capitalism in crisis

Give us your change (and more) to fight for system change!

The Socialist Party is being evicted - we need you!

'Paradise' for billionaires - austerity for us

Brighton: Socialist Party PCS conference fringe meeting

Thousands on TUC demo

Tories' continuing EU quagmire is Corbyn's opportunity

Local election results are a major warning sign for Labour

Labour councils

Prospects for a Labour government?

Sweden: Socialist elected leader of 77,000-strong tenants' union

The Tusc results

Building fund appeal smashes £150,000, keep it coming!

Threat to unity of PCS left

Spain: Student general strike against sexist, capitalist 'justice' system

Chesterfield May Day: march turnout great

Obituary: Tony Byrne 1939 - 2018

Southampton Socialist Party: Fight all cuts in Southampton

The Socialist Inbox

Abolish tuition fees and student debt!

Socialists in Israel-Palestine reject establishment antisemitism charge against Jeremy Corbyn

Richest worth £724bn... as 100,000 kids fall into poverty