Reports and Campaigns
---

About the Socialist Party

Anti-capitalism

Anti-privatisation

Anti-war

Election campaigns

Environment

Health

Socialist women

Workplace

Youth and Students
---
Education tags:
---
Reports and campaigns:
Stop the slaughter of Tamils (55)
Workplace and TU campaigns (5133)
Related websites
Trade Unionist and Socialist Coalition
National Shop Stewards Network
---
21 April 2010

Vote to boycott SATs
The two main unions representing primary headteachers have both returned clear majorities in support of a boycott of this May's English and maths Key Stage 2 SATs tests for eleven year-olds, writes Martin Powell-Davies, Lewisham NUT.
10 February 2010

Boycotting the 2010 SATS in schools
At the end of January, I attended a training meeting for teachers' union NUT reps in London. Only a day or two previously, a joint NUT/NAHT press statement had been issued stating that both unions will...
25 November 2009

The battle for state education
When Labour came to power with a mission to sort out education, they bulldozed ahead with the mantra of "whatever works", writes Linda Taaffe.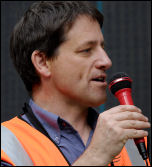 Martin Powell Davies at the Lewisham demonstration against destructive school policies, photo Paul Mattsson
21 October 2009

Primary education: Report slams government policy
EVER SINCE New Labour was elected, they have sought to dictate to schools what to teach and even how to teach it. Policed by the threatening machinery of Ofsted inspections and league tables of SATs and GCSE results, schools have been bullied into following each new instruction imposed by ministers and Whitehall officials, writes Martin Powell-Davies, secretary, Lewisham NUT.
15 April 2009

National Union of Teachers conference: Battle on workload begins
Teachers' anger at the pay and workload they face was clear at this year's National Union of Teachers (NUT) conference, writes Dave Reid reports from NUT conference in Cardiff.
5 November 2008

Year 9 SATs abolished: Now get rid of the rest!
I did my SATs last year. It's definitely true that SATs put more pressure on kids that are going to have pressure in the years to come with their GCSEs, writes Niall Haley, Walthamstow.
21 February 2004

"Jack is walking!"... but the system is failing
ONLY AT the age of nine was Jack seen to be walking for the first time. It was with the aid of the water in the school baths but his achievement inspired the whole school and all his family...
22 November 2003

'No' To SATS: 'Yes' To A Boycott
TEACHERS IN the NUT, the biggest teaching union, are currently being balloted about boycotting SATs in primary schools at Key Stage 1 and 2, writes Jane Nellist, KS1 Teacher.
15 November 2003

Teachers Ballot Against Sats
THE NATIONAL Union of Teachers (NUT) National Executive (NEC) has unanimously decided to ballot its members against the school SATs tests, writes Linda Taaffe, NUT.
18 October 2003

Stand Together To Scrap The SATS
FOR THE last month, teachers in Coventry have been campaigning against SATs. We have been leafleting schools and talking to parents on the school gates as well as organising stalls on Saturdays. Pupils...