Fine Gael
---
Filter by importance | All results
---
6 April 2011

Ireland's economy on the brink
Within the first month of taking office, after 14 years in opposition, the shine has already come off Ireland's Fine Gael/Labour coalition government, writes Michael O'Brien, Socialist Party (CWI Ireland).
3 March 2011

Fantastic results in Irish election: Socialists and lefts gain five seats
Socialist Party councillor Clare Daly was elected as a TD for the first time in Dublin North with 7,513 first preference votes or 15.2% of the vote, and Joe Higgins, a TD from 1997 to 2007 and currently the Irish Socialist Party's MEP, was returned to the Dáil (parliament) representing Dublin West, gaining 8,084 votes (19%).

3 March 2011

Elections see collapse of Fianna Fail, the traditional establishment party
Ireland: Socialist Party wins two parliament seats The general election in Ireland was historic but not for the reasons being stressed by the would-be new government partners of Fine Gael and Labour.
26 January 2011

Irish government collapses: United Left Alliance offers real alternative
After the economic collapse of the so-called 'Celtic Tiger' economy, Ireland is spiralling into social and political disintegration. The Socialist Party (CWI Ireland) will stand candidates in the coming elections as a key part of the United Left Alliance (ULA).
17 May 2007

Irish election: An above average Joe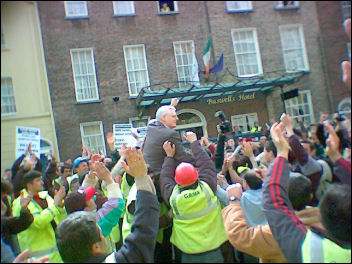 Joe Higgins and the victorious Gama workers
SOUTHERN IRELAND'S general election for the Dail, Ireland's Parliament, on 24 May gives working-class people a chance to say what they think of the 'Celtic Tiger' economic boom that has made huge profits for big business ...
3 May 2007

Irish election - Socialist Party takes on the establishment
HUNDREDS OF people languishing on trolleys in A&E departments, tens of thousands on hospital waiting lists, Û415,000 for an average house in Dublin, commuters wasting hundreds of hours a year stuck in traffic jams, the second...