Sussex students uphold 'no platform'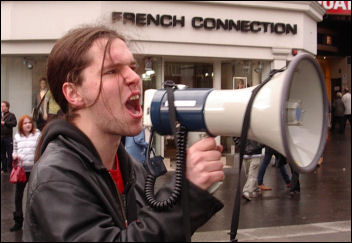 Students and trade unionists marched through Newcaste on the Campaign to Defeat Fees day of action, photo Northumbria Socialist Students
Sussex University students voted 715 to 431 in a referendum to keep the 'No Platform' policy, ensuring that the British National Party (BNP) remain banned from the students union.
Lee Vernon, Sussex Socialist Students
After requests from Sussex's Debating Society for a BNP speaker were refused by the students union they launched a campaign insisting on the need for freedom of speech on campus, forcing a referendum.
Vigorous campaigning from a united left, within which Socialist Students played a key role, ensured that the BNP would not gain a foothold in our university.
The referendum motion was crudely posed as 'for' or 'against' free speech. 'No platform' policies are not about infringing freedom of speech. Once students understood that this was not about 'freedom of speech' in general, but a specific ban that became policy through the democratic process of the students union, on a specific group - the BNP, whose ideas and methods are hostile to students' interests, students saw the necessity to maintain the ban.
The students union is there to represent and protect its members and giving resources to a racist and sometimes violent group goes against everything our union stands for.
Debating Society members just wanted to create some controversy to raise their society's profile, not caring about the consequences and the dangers such actions pose to students. The BNP have a long history of racism and violence reaching back to their ties with the National Front.
They may now have donned suits to create the fašade that they are a serious, respectable party but this is merely a front. Ex-members, secret footage and their thuggish actions have exposed them as racists and still committed to inciting hate and violence.
By giving them a platform and allowing them to organise, we are only helping the BNP find an audience. It is up to us as socialists and as students to make sure we keep the BNP off our campuses.
---
http://www.socialistparty.org.uk/articles/4107