Defend the NHS!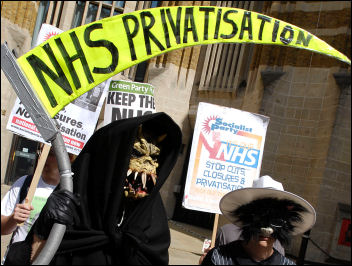 The Socialist Party's 'Grim Reaper' and a fat cat join the Keep Our NHS Public 'Defend our health service' protest outside the Department of Health on the 60th anniversary of the founding of the health service, photo Paul Mattsson
LAST SATURDAY, 5 July marked the 60th anniversary of one of the greatest gains of the British working class, the introduction of the National Health Service.
Wylie Hume, Devon Socialist Party
Unfortunately the erosion of the NHS' basic founding principles: free provision at the point of use, the service being financed by central taxation and universal eligibility for treatment, began not long after its introduction.
The 1950s saw the introduction of a £1 dental care charge and a one shilling prescription charge. These are fees that have increased continuously since then. The latest attack has come in the form of polyclinics.
The plan is to centralise services into 'specialist centres' which means closing many GPs surgeries and other facilities and merging them into one so-called 'super-hospital' covering a regional area and will usually be owned and run by the private sector.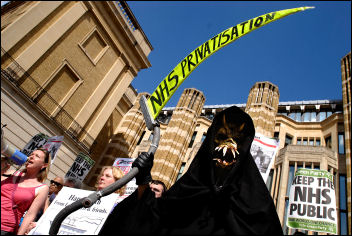 Photo Paul Mattsson
The policy will save money in public spending while creating plenty of profit for big business, just what New Labour want. This will be at the expense of patients who will be treated by doctors who don't know them because of short term contracts for commercial health companies, that is if the patients can even get to the polyclinics in the first place.
The polyclinics will lead to further distance to travel for primary health care, especially difficult for those who use the NHS more than anyone else, the elderly. Polyclinics will lead to primary health care being run in the interests of profit not patients.
Most health workers are not paid a decent wage, having been given effectively a pay cut because of inflation over the next three years. They face more attacks in the future including the increasing privatisation of the NHS. We need an alliance between communities and health workers to prevent further attacks and reverse those already carried out.
There is genuine support for the NHS. We should celebrate its 60th anniversary by continuing to fight the cuts, closures and privatisation of what is one of our basic human rights.
---
http://www.socialistparty.org.uk/articles/6256