Civil service strike ballot begins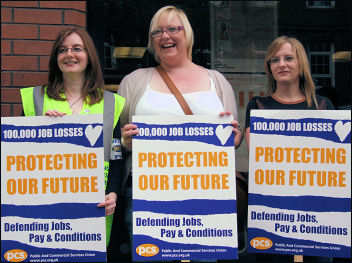 PCS Passport workers on strike in Belfast, photo Peter Hadden
All Public and Commercial Services union (PCS) members working in the civil service and related pay areas - some 270,000 workers - are being balloted for national action over the government's pay restraint policies.
Katrine Williams, PCS DWP group executive, personal capacity
PCS members are affected harshly by the government's 2% pay limit, as our progression payments to the rate for the job are not funded separately. Everything has to come out of the 2%.
This is at a time when prices are soaring and even the inflation figure the government uses, CPI, has risen to 4.7%. All this means is a pay cut for us.
We have already taken five days of industrial action since December in the Department for Work and Pensions, following the imposition of a three-year pay offer, as we are so angry about our poor pay levels, with many not even getting a pay rise this year.
Others have also taken action over their pay offers - coastguards, driving examiners, DVLA, passport service. If the government really wanted to address waste then it should return to civil service national pay bargaining, rather than there being 150 different bargaining units all negotiating at different times about the same treasury pay remit.
We highlighted the problems with the public-sector pay restraint at the TUC with delegates filling in cards illustrating our worries. They are faced with basic problems such as reluctance to put the heating on when winter comes because of the soaring fuel bills, getting essential repairs done in the home, paying vets bills and how to afford the weekly shopping.
As this government is supposed to be ending child poverty, it needs to do something about the poverty of children living in working households. Attacks on our pay in the public sector are only going to make this worse. It is about time the government paid more attention to addressing the tax system that allows the rich to avoid paying £25 billion in tax every year.
At the same time as our pay is being kept down, we are dealing with the human consequences of the downturn in the economy. Unemployment is rising and we are struggling to provide a good service to the public, with lack of staff and no room to expand.
Offices were cut since the last recession, with the merger of the jobcentres and social security offices into Jobcentre Plus. A number of Jobcentres are also currently in a consultation period for the minister to decide on closure, as part of the DWP plan to shut 200 offices by 2011. With estimates that unemployment could reach two million by the end of the year, we are campaigning against office closures. We need every inch of space to provide a service to those workers suffering the consequences of the government's policies.
The ballot runs from 24 September to 17 October.
---
http://www.socialistparty.org.uk/articles/6435