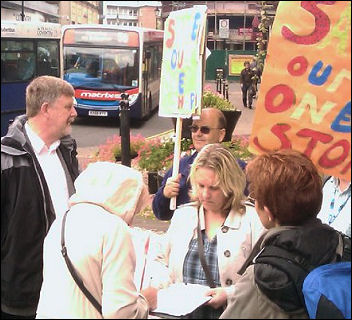 Socialist Pary councillor Dave Neillist joins Stoke Aldermoor residents to lobby Coventry council to save their local council neighbourhood management one stop service office., photo Coventry Socialist Party
A 30-strong crowd of determined residents from the Stoke Aldermoor estate in Coventry lobbied the city council meeting on Tuesday 14 September to save their local council neighbourhood management 'one stop' service office. It is one of five around the city that are in for the chop, that provide vital advice, support and services.
One resident, waving a placard made by teenagers at the youth centre on the estate, that is also under threat from cuts, said: "The area is becoming like an isolated island, everything keeps disappearing."
The small 'desert' that surrounds the estate, a former car factory, is a sad symbol of the years of clobbering done to Coventry's manufacturing base by the Tories, Labour and big business.
Coventry Against the Cuts public meeting, Tuesday 28 September, 7.30pm, Methodist Central Hall, Coventry. Speakers include Socialist Party councillor Dave Nellist and FBU general secretary Matt Wrack.
Lenny Shail, Coventry West Socialist Party