South Wales: Fight for car workers' jobs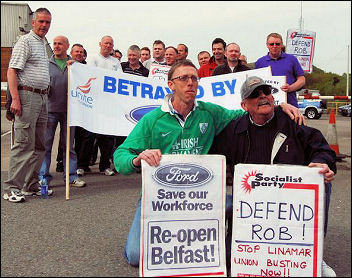 Linamar workers during their battle for jobs, photo Sarah Mayo
Over 220 workers are facing the dole with the closure of TRW in Resolven (ex-Cam Gears). Coming on the back of closures of Bosch, Borg Warner and Linamar – over 1,500 car workers in South Wales have been put on the scrap heap as the area threatens to become an industrial desert.
A South Wales car worker
This is at a time when thousands more workers in the public sector are threatened by the Con-Dem coalition's cuts. Neath and Resolven in particular will be hammered by the closure.
TRW says that there is no alternative, that there is 'overcapacity' and that one of the European plants has to go. What they don't say is that Resolven has been part of a blind bidding process where plant has been put against plant to offer concessions – cuts in wages and terms and conditions at a time of increasing inflation.
In desperation, the workforce offered a 15% cut but it wasn't enough for TRW. Pensions weren't part of the deal because the company closed the final salary scheme last year.
After suffering years of the company demanding concessions and with the threat of closure, workers have rightly refused to give up their enhanced redundancy which would only make them easier and cheaper to close.
This closure can be fought and defeated. At the very least TRW can be forced to improve the redundancy deal for the whole workforce. But for this to happen TRW must be told to expect a war to the end. TRW isn't a stand alone plant in Resolven, but part of a national and even international company.
There should be an immediate meeting of TRW convenors and shop stewards with support pledged if Resolven fight. This should be supplemented by a community campaign centred on Resolven but reaching out far and wide. Parallel with a campaign for a strike ballot, a public meeting or march in Resolven could give the workforce the confidence to fight and send a clear message that this is a fight to the end.
The community can't afford to lose another factory, it should be nationalised to save the jobs and skills.
Open the books – what's the real position within TRW?
Organise a national meeting of TRW shop stewards to support Resolven.
Fight the closure – campaign for a 'yes' vote in a strike ballot.
Organise a demo in Resolven to involve the community.