Youth Fight for Jobs press release
Youth Fight for Jobs calls for demonstration against cuts 24 November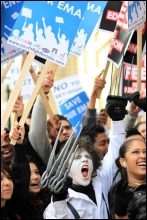 Massive student demo in London called by the NUS expresses anger against cuts, photo T.U. Senan
Youth Fight for Jobs is calling for a demonstration against cuts to the university budget and increased tuition fees on the 24th November.
It will be assembling at Horse Guards Avenue at 1pm.
The ConDem Government plans to raise tuition fees to up to £9,000 a year. 80% of the university teaching budget will go but with state funding for arts and social sciences being scrapped altogether.
Parliament will discuss tuition fees on the 24th November.
Paul Callanan, member of the YFJ national steering committee says:

These attacks will lead to a two tier education system. Education will become a privilege for the few that can afford it.
The 50,000 strong protest on the 10th was a huge demonstration of anger from students who want to fight for the right to a decent future.

This protest is the next step of a wider campaign; anti-cuts and anti-fees groups are springing up at universities and colleges up and down the country.
Claire Laker-Mansfield, Socialist Students National Organiser, says:

We fully support the call for a demonstration on the 24th.
We say that education is a right and not a privilege and that university should be free for all those that want to go and that there should be a living grant to help people through their studies.

We urge all students to walk out of their universities and colleges on the 24th to come and join our demonstration.
Youth Fight for Jobs was launched at the start of the recession to combat the growing effects of youth unemployment.
It has the backing of three national unions, the PCS, RMT and CWU, as well as many other trade union and student bodies.
---
Press release from Youth Fight for Jobs