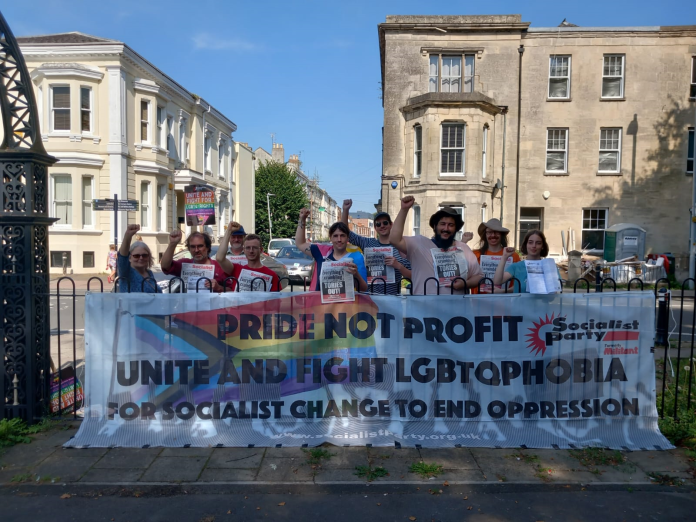 The Socialist Party message of 'Pride not profit' was well received. And many people expressed discomfort with the strong corporate presence at the event.
This included cost-of-living profiteers Tesco, as well as military jet engine supplier General Electric Aerospace.
Their representatives wore t-shirts featuring rainbow-coloured fighter jets. Weapons companies BAE Systems and Northrop Grumman were also sponsors.
In contrast to this was the Socialist Party campaign stall at the entrance to the park, with a large 'Pride not Profit' banner clearly visible. We handed out hundreds of leaflets.
We took every opportunity to speak with participants about how the struggle for LGBTQ+ rights could be won through mass action and revolutionary socialist change. And we now aim to get as many of them as possible to our Socialist Party public meeting on Pride.
Joe Waters, Gloucester Socialist Party
Salisbury – socialists join alternative Pride
After the main Pride event in Salisbury was cancelled due to a "lack of funds", local Pride organisers set up a 'mini-Pride' event in its place in a local pub on 9 September. Linking up with one of the organisers, the Socialist Party was invited to come and participate.
It started slowly, but quickly gathered steam as more people arrived. Our Socialist Party leaflets – 'Build a mass movement for LGBTQ+ liberation' – were hoovered up.
The people spoken to were often young, and very receptive to the socialist message. Many were sick of the Labour Party under Keir Starmer. So the idea of a new mass workers' party was well received.
People were also happy to see a Socialist Party presence there, given Salisbury's perception as being 'Toryville'. And six people filled out 'I want to join the Socialist Party' cards.
Ali Cook, Dorset Socialist Party