Link to this page: https://www.socialistparty.org.uk/articles/11586
Posted on 31 March 2011 at 20:05 GMT
POA fights privatisation of Birmingham prison
Interview with POA assistant secretary, Joe Simpson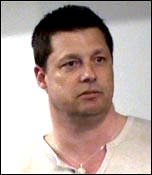 Prison Officers Association (POA) assistant secretary, Joe Simpson, photo by Socialist Party
The Con-Dems have sold Birmingham prison to private security firm G4S. This is the first existing public sector prison to be contracted out.
The POA prison officers' union opposes privatisation and has warned that it will challenge the move.
Prison officers in prisons that are privatised could be forced out of the collective bargaining agreement with the government and face worse terms and conditions.
They could also suffer attacks on their pensions. According to the BBC, justice minister Ken Clarke told MPs that the "military are involved" in contingency plans should prison officers stage a strike.
The Socialist spoke to Joe Simpson, assistant secretary of the POA.
What's going on at the moment?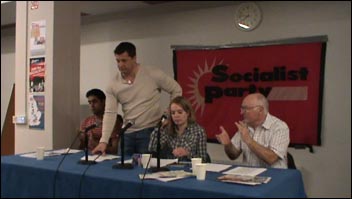 Prison Officers Association (POA) assistant secretary, Joe Simpson. speaking at a London Socialist Party meeting
We are living at the moment with threats of injunctions against the union. It's been going on since the start of the week when we put out two circulars to our members reminding them of the policies of the union.
We immediately got a letter from the Ministry of Justice asking us to withdraw the circulars because they believed we were inducing prison officers to take industrial action which we weren't.
This resulted in another letter coming back saying that they were going to seek 'injunctive relief' against the POA, ie to get an injunction to stop us from doing anything.
If we try to do anything in the meantime they can just come in and seize the assets of the union. Phil Wheatley, who was director general of the prison service and is now on the board of directors of G4S, who've just won the bid for Birmingham, did say that if we ever went on strike he would 'own Cronin House', which is our HQ.
What are the policies of the union?
The policies of the union are that we would take industrial action up to and including strike action if a public prison went over to private. We are opposed to privatisation because we believe that the state has a fundamental obligation, that if it's going to sentence its citizens then it should also have the obligation of looking after them and rehabilitating them.
But what they're doing now is actually selling their obligation to the lowest bidder just to get out of that.
What will privatisation mean for members?
For members we are hitting a level of uncertainty here. This is unprecedented.
We've never ever had a prison go over to the private sector and now Birmingham has. The state of play now is that we are going to meet with the chief executive of the National Offending Management Service.
We've requested a meeting with the Prisons Minister, Crispin Blunt, who we are meeting on Monday 4 April 2011 at 5pm. And we're also going to be asking for a meeting with Brendan Barber of the TUC for support. We have received support from individual unions, RMT, PCS.
But the thing that disappointed us was that a Labour front bencher got up and actually supported everything that ken Clarke was saying, that was Sadiq Khan.
The opposition is in total agreement. This was a process that was started by a Labour government. They started this process in 2009.
Was it Labour who originally took away your right to strike?
Jack Straw brought back section 127. Actually it was 1994 when we lost our industrial rights through a Thatcherite government in which Ken Clarke was one of the more prominent MPs.
Then we signed up to the JIRPA [joint industrial relations procedural arrangement] which was a no-strike agreement because we thought we were getting a deal.
But then management started to veto what was a dispute, they were deciding what was a dispute and when we went to get agreement from court they agreed with the prison service so we withdrew from the arrangement.
When we withdrew Jack Straw tried to get another no-strike deal. When we refused he brought back 127 on the statute books. In fact the law that was brought in by Jack Straw is worse than what the Tories put in in 1994.
The only thing they could do in 2008 was to come out and start dismissing people which we believe they will try to do anyway. This is all about the union being bullied by an employer and by government.
How can readers of the Socialist support your members?
We will accept any support from anyone in our fight against this. We've got policies out there where we're asking our branches to organise meetings, which they will be doing over the next couple of days in the lunch hour.
We're even getting threatening letters about that from the employer, calling it industrial action! Having a meeting in our own time! We believe that government are trying to make law-abiding members of the public, ie the professional men and women who work in our prisons, slaves to the state. And to the private company now.
Donate to the Socialist Party
Finance appeal
The coronavirus crisis has laid bare the class character of society in numerous ways. It is making clear to many that it is the working class that keeps society running, not the CEOs of major corporations.
The results of austerity have been graphically demonstrated as public services strain to cope with the crisis.
The Socialist Party's material is more vital than ever, so we can continue to report from workers who are fighting for better health and safety measures, against layoffs, for adequate staffing levels, etc.
We must be ready for the stormy events ahead and the need to arm workers' movements with a socialist programme - one which puts the health and needs of humanity before the profits of a few.
Inevitably, during the crisis we have not been able to sell the Socialist and raise funds in the ways we normally would.
We therefore urgently appeal to all our viewers to donate to our Fighting Fund.
---