Link to this page: https://www.socialistparty.org.uk/articles/12946
Posted on 8 October 2011 at 14:25 GMT
Tories and their yes-men - can they walk the walk?
Sarah Sachs-Eldridge, editor of the Socialist newspaper, a weekly left-wing paper, lays down a challenge to Tory MP Robert Goodwill, and journalists Richard Alleyne from the Telegraph, Mark Branagan from the Independent and Robin Pierre of the Sun:
Join the march!
While numbers relying on food donations soar, youth unemployment approaches one million and millions face years of cuts with devastating effects on their families these brave men have taken the time to attack those who are marching from Jarrow to London to highlight the plight of young people.
These journalists have attacked those marching from the comfort of well-paid comfortable lives, probably having received free education.
But even writers in the Independent have warned that we risk a "lost generation" given the lack of opportunities for youth.
Despicable comments
The despicable comments of these journalists are wildly out of tune with the vast majority of people who will have huge sympathy with the marchers. 72% of people polled by YouGov would like to see action taken to alleviate youth unemployment.
As part-time editor of The Socialist, Sarah understands that for some journalists it can be easier to sit at a desk or spend time hobnobbing in Westminster than to try to actually understand the situation young people face.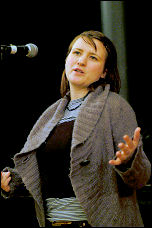 Sarah Sacks-Eldridge at Socialist Pary congress 2007, photo Paul Mattsson
Sarah is joining the march from 17 to 23 October, as it passes through the midlands, to show support for this protest.
The Socialist has a weekly page written by young people which has described the reality of being thrown on the scrapheap with the abolition of EMA student payments, the trebling of university fees and, of course, the lack of jobs.
The Socialist fully backs the Jarrow march and also highlights the way young people, students and working class people are fighting the cuts.
Cuts not necessary
The Socialist Newspaper does not accept that the cuts are necessary and focuses on how to stop them with reports of the struggles across the country.
Joining the march from 17 to 23 October, Sarah challenges Goodwill and any journalist who wants to denigrate the march to also participate - walking daily, sleeping on thin mats in church halls and scout huts, eating cheap food and that kindly donated through public support.
Although the generosity the marchers have encountered may meet its limits at Tories and their paid hirelings in the press.
But such an experience might give this lot a chance to reconsider their stupid comments.
The ironically named Goodwill voted for the punishing VAT rise and for the trebling of university fees. But with a 2008 expenses bill approaching £150,000, on top of the generous MP's salaries (putting MPs in the top 10% of earners), he will not be suffering as the rest of us do.
Ben Robinson, marching the route from Jarrow to London answered the Nasty Party's Goodwill: "His disgraceful comments, implying that all young unemployed do is watch Jeremy Kyle, are a real kick in the teeth for those who are day-after-day searching for jobs.
"There have been a number of tragic cases of suicides after hundreds of job rejections, and Robert Goodwill's comments reveal the huge depths of cynicism that lie at the heart of the Westminster."
Youth Fight for Jobs was launched in January 2009 to combat the effects of the recession on young people. It has the support of Unite, RMT, PCS, CWU, UCU, Bectu, TSSA, FBU and many local trade union and student union groups
To contact Youth Fight for Jobs to arrange interviews or for further information, please contact youthfightforjobs@gmail.com
020 8558 7947
07751 355616
PO BOX 858, London, E11 1YG
---
>
Press release from Youth Fight for Jobs
Ben Robinson, marching from Jarrow to London said:
"Richard Alleyne, the author of the article, perhaps should start by fact checking, and speaking to those on the march.
"We had a demonstration in Jarrow on Saturday which was attended by around 500 people - however, it was always going to be the case that there was a far smaller number of core marchers, around 20-30.
"As a march of unemployed people, of course we are organising trips to sign on and for interviews; you would hope that the MPs would welcome this display of pro-active job seeking.
"However all have returned to the march and are determined to make it through to the end. We would like to invite all concerned with this article to join us on Wednesday 12 October, as the latest set of unemployment figures are published and we march from Barnsley into Nick Cleggs constituency in Sheffield, or if they are worried about how sore their feet would be perhaps they could take the short march through London when we arrive on 5 November, assembling 12 noon embankment.
"There will be many young people from all walks of life who will be more than happy to expain what life is like in the real world."
Priviledged elite ruling Britain
"Young people have long known that the priviledged elite ruling Britain today live on a completely different planet to them, and Robert Goodwill, MP for Scarborough has revealed how true that is today.
"Perhaps if he did not receive £145,387 in expenses last year alone he would have more understanding of what the situation young people is."
---
>
Related video: Lizi Gray is joining the march. Her great-grandfather was a Jarrow marcher in 1936. Video of the launch of the March in Jarrow
Donate to the Socialist Party
Coronavirus crisis - Finance appeal
The coronavirus crisis has laid bare the class character of society in numerous ways. It is making clear to many that it is the working class that keeps society running, not the CEOs of major corporations.
The results of austerity have been graphically demonstrated as public services strain to cope with the crisis.
The government has now ripped up its 'austerity' mantra and turned to policies that not long ago were denounced as socialist. But after the corona crisis, it will try to make the working class pay for it, by trying to claw back what has been given.
The Socialist Party's material is more vital than ever, so we can continue to report from workers who are fighting for better health and safety measures, against layoffs, for adequate staffing levels, etc.
Our 'fighting coronavirus workers' charter', outlines a programme to combat the virus and protect workers' living conditions.
When the health crisis subsides, we must be ready for the stormy events ahead and the need to arm workers' movements with a socialist programme - one which puts the health and needs of humanity before the profits of a few.
Inevitably, during the crisis we have not been able to sell the Socialist and raise funds in the ways we normally would.
We therefore urgently appeal to all our viewers to donate to our special coronavirus appeal.
---