Coventry Socialist Party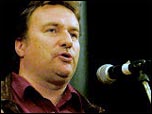 Rob Windsor, photo Paul Mattsson
"It was an inspiring event," said Kath O'Donnell about the funeral for her anti-poll tax colleague, Rob Windsor, at Coventry Cathedral.
A socialist councillor in St Michael's ward, he was described as "passionate, driven, eloquent and uncompromising… but a humble man".
Around 800 people – a huge turnout of work colleagues, council workers, Socialist Party (SP) comrades and hundreds of people from St Michael's and across the city – joined Rob's family to celebrate his life, a testimony to the man and the socialist and Marxist ideas he promoted.
Speakers paid tribute to the 'force of nature' that was Rob. Workmate Mike Fowler described Rob as "about as good as it gets".
Another workmate, Alan Thomas, said Rob was selfless and had an amazing record of helping people, fuelled by his compassion and Marxism.
"If we're made of dust, what dust he was," said Coventry SP member Dave Griffiths who described Rob's eventful life and dedication to fighting injustice, inequality and oppression.
Rob's greatest pride was the anti-poll tax struggle. And rightly. He firmly fought for a campaign of mass non payment which was to cement his relationship with the Socialist Party.
Warmth and compassion
A message from Scottish socialist Tommy Sheridan said: "There are some people you meet in life who have inner warmth and compassion that oozes from them… Rob Windsor was one of those people.
"Rob was a champion in the titanic battle against the poll tax. His understanding of the law made him a priceless member of the anti-poll tax team.
"He showed no fear in confronting the powerful on behalf of the powerless. His courage was awe inspiring."
SP general secretary Peter Taaffe praised Rob's role not only as a campaigner in Coventry but as a national leader in the Socialist Party.
Another leading SP member, Hannah Sell, explained how young he was to be an anti-poll tax leader. She added: "His socialism stemmed from his solidarity with anyone suffering poverty and injustice."
Because no individual councillor could stop all that, Rob "was determined to fight for a better society. It's a tragedy that we've lost him when the need for a society that acts for the 99% rather than the 1% has never been clearer. He would want socialists here to re-dedicate ourselves to the cause we shared with him."
Fighting back
SP councillor Dave Nellist said Rob was a politician not because he wanted to be one, but to fight back for working people. Our job, if we admire his work, is to find the next generation who'll do as Rob did, and fight to spread the ideas of socialism and the need to change the world.
The Bishop of Wolverhampton, Clive Gregory, said Rob was not a religious person but could be described as spiritual. "His spirituality was… a belief in the potential of every person and the collective potential of humanity".
Clive knew Rob's work well as he had been a Coventry vicar at St Peter's church in Hillfields. He said the cathedral was the only place large enough to hold Rob's funeral and that the cathedral's community should be proud to welcome such a man. Clive called for a permanent memorial to Rob.
Expelled from the Labour Party as it embraced the market, he was not deterred by a time of political retreat by the left during the 1990s. He continued the fight for socialism and led dozens of campaigns.
But whether on the council or leading campaigns, Rob hardly ever missed a meeting of his local SP branch, always looking to build support for our party.
Inspired
Recently he had the pleasure of hearing even Margaret Thatcher's biographer, Charles Moore, say how the 'leftist' argument now looked more credible and would gain new force. How Rob would have loved to be part of that. Luckily, he inspired so many and we are confident others will pick up the baton of struggle.
After the cathedral, family and close friends went to Canley crematorium to be greeted by 'Always look on the bright side of life'. The traditional workers' song The Internationale was sung at the end.
Hundreds who could not fit into the Canley chapel were hosted by Coventry Socialist Party at the SQ club where speakers young and old remembered and saluted Rob's contribution to the Socialist Party and the working class.
Peter Taaffe urged everyone to re-commit themselves to the struggle for socialist change and to join the SP if they weren't already a member in order to carry on the struggle that Rob fought so hard for.
Everyone there felt taller for knowing and campaigning with Rob and he would have been proud of the tribute his fellows paid him.
See also: