Link to this page: https://www.socialistparty.org.uk/issue/717/14489
From The Socialist newspaper, 9 May 2012
Water waste of money!
James Ivens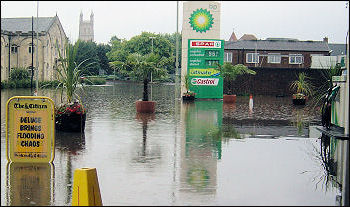 Flooding in the centre of Gloucester, 2007, photo Chris Moore
We are in drought. This is Thames Water's message for South East England, appearing on giant billboard images of cracked, dry earth.
But Britain is a first world country. It is a rainy country! And since 1990 Thames Water has paid out £5 billion to shareholders. So why can't they splash out on us?
The drought is a surprise to many in London who endured a soggy April. It must seem more incredible to flash flood victims in the South. And still more to residents of rain-rich Wales.
Water workers' union GMB, however, saw it all coming. In a recent statement the union noted that reservoirs totalling 600 million gallons have been closed across the region. Most of the sites were sold off for lucrative property developments. And every year almost a quarter of the entire water supply leaks from the system. Despite this, more than half of all water companies are not required to reduce their leakages at all before 2015.
No shortage of water
Meanwhile, the cost of piping water in from rainy regions means utility bosses are dragging their heels. Two months ago Thames Water announced plans involving old canals to avoid "having to build expensive pipes" and "additional pumping". This is too little, too late.
GMB has called for more connection between Wales and the South East since at least 2006. Astonishingly, plans for this date back 140 years. "What is not in short supply is water" said the union in March, "but there is a shortage of structures" - reservoirs, waterways and resource planning - "to get the water where it is needed."
The cause of this absurd situation? Privatisation. Thames Water and its counterparts have made billions in profit since buying up the assets of regional water authorities in 1989. But rather than extending infrastructure or lowering prices, this surplus has been used to fill the trough for greedy executives and bloated shareholders.
The rest is being poured into the pockets of private contractors as they foist the massively disruptive Thames 'super sewer' on South Londoners. Colin Green, a professor of water economics, estimates the project will make Thames Water £100 million a year.
The three main parties all say the answer lies in introducing a 'market' for water. But the profit motive is the problem! The avarice of utility bosses is such that John Elfed Jones, former head of Welsh Water, said in April that Wales should be flogging its rainfall "like oil"!
Socialists say that utilities should be brought into public ownership. And not on the partial terms of the shambolic bank bailouts. Water should be wholly owned by the state.
The industry should be controlled and managed democratically by workers. And regions should cooperate to meet the needs of all, not compete to enrich a few.
Donate to the Socialist Party
Coronavirus crisis - Finance appeal
The coronavirus crisis has laid bare the class character of society in numerous ways. It is making clear to many that it is the working class that keeps society running, not the CEOs of major corporations.
The results of austerity have been graphically demonstrated as public services strain to cope with the crisis.
The government has now ripped up its 'austerity' mantra and turned to policies that not long ago were denounced as socialist. But after the corona crisis, it will try to make the working class pay for it, by trying to claw back what has been given.
The Socialist Party's material is more vital than ever, so we can continue to report from workers who are fighting for better health and safety measures, against layoffs, for adequate staffing levels, etc.
Our 'fighting coronavirus workers' charter', outlines a programme to combat the virus and protect workers' living conditions.
When the health crisis subsides, we must be ready for the stormy events ahead and the need to arm workers' movements with a socialist programme - one which puts the health and needs of humanity before the profits of a few.
Inevitably, during the crisis we have not been able to sell the Socialist and raise funds in the ways we normally would.
We therefore urgently appeal to all our viewers to donate to our special coronavirus appeal.
---
In The Socialist 9 May 2012:
---
Socialist Party election analysis

Legitimacy of Cameron and Clegg further shattered

Election results: How did TUSC do?

Con-Dems battered in Scottish local elections

Labour's best Wales result in 21 years will not stop cuts

London elections - TUSC: A marker for future struggles

Coventry: Socialist campaigner Dave Nellist narrowly loses

4,792 mayoral vote for Liverpool 47 candidate

Trade Unionist and Socialist Coalition local election reports

Unison attacks TUSC candidate
---
International socialist news and analysis

France: A weekend that shocked Europe

Greece: Political earthquake sees pro-austerity parties' support collapse
---
Socialist Party news and analysis

Water waste of money!

MPs find Murdoch "not fit" to run media empire

Them & Us
---
Socialist Party reports and campaigns

Good result for Socialist Students candidates in NUS elections

Health services at risk in Cardiff and Vale

Privatisation pushes up transport costs in Yorkshire

Care home closures in Sheffield

Police restrict anti-racist protesters in Luton
---
Socialist Party workplace news

Come to the NSSN conference!

Greenwich libraries - fighting back can win

Exposed: the dirty world of NHS privatisation

Duncan Smith throws insults at Remploy workers

Workplace news in brief
---
Reviews and comments

Film review: 'Cocaine Unwrapped'

Turning anger into action
---
Home | The Socialist 9 May 2012 | Join the Socialist Party
---