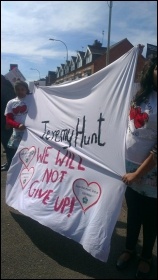 Opposing the closure of the children's heart unit at Glenfield hospital, photo Steve Score (Click to enlarge: opens in new window)
Demo against heart unit closure in Leicester
About 150 people gathered at short notice on Saturday 8 September to show their opposition to the proposed closure of the children's heart unit at Glenfield hospital in Leicester.
In a very noisy protest, cars hooted their support as the chanting protesters marched up and down Belgrave Road in Leicester.
The march was organised by 14 year old Ria Pahwa, the second one she has initiated, to add to the pressure on the government to review the decision.
If the closure goes ahead the nearest unit would be in Birmingham. Ria is herself a heart patient and points out that she could have died soon after birth if the heart unit hadn't been at Glenfield.
Campaigners and doctors point out that the closure of this unit would undoubtedly mean greater numbers of deaths.
An online petition (http://epetitions.direct.gov.uk/petitions/35788) has been signed by around 65,000 people so far with the aim of getting over 100,000 signatures and the decision reviewed.
The original consultation pitted different heart units against each other. The Socialist Party is opposed to the closure of any of the heart units, and believe it is part of the wider process of cutbacks the government is making.
There is more information in the previous article: http://www.socialistparty.org.uk/issue/728/14946
Steve Score
---
This version of this article was first posted on the Socialist Party website on 10 September 2012 and may vary slightly from the version subsequently printed in The Socialist.