Fight for jobs – fight for a future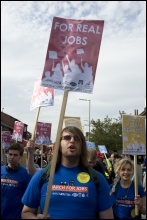 Youth Fight for Jobs on the march, photo Paul Mattsson
Clare Laker-Mansfield, Youth Fight for Jobs (YFJ)
The heart-breaking story of 20 year old Martin Hadfield, who tragically took his own life following months struggling to find work, is a shocking reminder of the real lives broken by a system that offers so many so little hope.
The human cost of nearly one million young people unemployed can never be fully expressed in the form of cold numbers. As Martin's stepdad eloquently put it: "He was never a statistic to us".
Britain's out of work youth are real people, with real hopes and dreams. Each of them is an individual with unique potential – with talents, skills and energy they're desperate to use. It is both a tragedy and an outrage that so much of what this generation has to offer is being criminally laid to waste.
Just like for the vast majority of those who find themselves out of work, laziness was never a factor in Martin failing to find a job. A trained gardener, he became unemployed when the firm he worked for downsized.
Next he found himself faced with the demoralising task of sending out applications and CVs – only to be knocked back by rejections and employers who failed to even supply him with a courteous response.
For hundreds of thousands of young people this familiar process is no doubt made even more difficult by smug, privileged pro-capitalist politicians joining the right-wing press in a relentless campaign of myth-making about unemployed 'scroungers'. Perhaps this kind of rhetoric played a part in Martin's decision not to claim any benefits while out of work.
This human tragedy was the fault of an inhuman capitalist system. But any economic system which sees such vast accumulation of wealth for a few, while it presides over the wasting of the skills and talents of so many young people, does not deserve its continued existence.
The solution to youth unemployment is not ever harsher and more punitive treatment of those who are out of work; it's the creation of millions of secure, well-paid socially useful jobs – jobs that can provide the foundation for stable and happy lives for the next generation, as well as homes and services for those who need them.
Not one of the mainstream political parties currently offers us that. For young people facing unemployment – anger, frustration, stress and even despair can be normal responses to the bleak prospects austerity offers. But a concerted fightback, by young people working alongside trade unionists, socialists and other campaigners, can challenge the cuts consensus and help secure a decent future for the '99%'.
Youth Fight for Jobs is helping to build this fight and to organise unemployed young people to demand their right to work. We say not one single young person should be left on the scrap heap. The cold cruelty of the Con-Dems leaves many thousands facing despair. But hope can come in fighting to change society.
We say:
Prevent job losses. Stop public sector cuts
Bailout workers not bankers. Nationalise big industries threatened with closure or large-scale job losses
Share out the work. For a 35-hour working week with no loss of pay. No increase in retirement age
For government investment in well-paid socially useful jobs with full trade union rights for workers
For a massive public programme of house building, renovation and infrastructure projects
Scrap workfare and all unpaid work schemes
For secure jobs with guaranteed hours – scrap zero-hour contracts
A living wage that's enough to live on – fight for a £10 an hour minimum wage and no youth exemptions