Essex firefighters on strike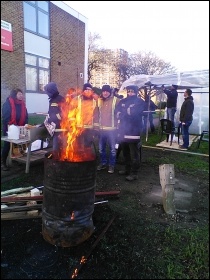 Essex firefighters' strike, Basildon fire station, photo by D Murray (Click to enlarge: opens in new window)
Essex firefighters took strike action from 9am on Wednesday 14 January. The three days of planned partial actions have been escalated as the employers effectively chose to temporarily lock firefighters out rather than accept three days of more limited strikes.
This dispute is over changes to conditions for control room staff – with the sticking point being an attempt to impose 12 hour shifts – but has to be seen against the background both of the national pensions dispute and a local war of attrition waged by a hard nosed employer against one of the best organised fire brigades in the country.
While the pickets' shelter and brazier at the Basildon fire station could not compare with the luxurious new command and control centre in nearby Kelvedon (there are reports of travellers on the A12 pulling into the swanky new premises requesting bed and breakfast) the picket line was well attended and morale was high.
Dave Murray, Basildon Socialist Party
---
This version of this article was first posted on the Socialist Party website on 16 January 2015 and may vary slightly from the version subsequently printed in The Socialist.