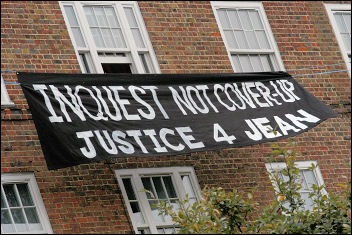 Banner calling for justice for Jean Charles de Menezes, photo Paul Mattsson
Campaigning for the victims of police brutality, racism and killings
Paula Mitchell, London Socialist Party
Ten years on, a former police firearms officer is to be prosecuted for the murder of young black man Azelle Rodney in 2005.
Anthony Long is accused of shooting "as soon as Azelle Rodney came into his gun sights". The police were following three people travelling in a car, suspected of criminal activity. The moment the car stopped, Long opened fire and shot Azelle eight times.
On the same day as this news, it was reported that the family of Jean Charles de Menezes are taking their case to the European Court of Human Rights to challenge the 2005 decision that no officers will be prosecuted for the horrific gunning down of a completely innocent man.
In the days after the 7/7 bomb attacks on London transport, Jean Charles was mistaken for a 'terrorism suspect' and executed in front of horrified passengers on a tube train in Stockwell station.
The police then told blatant lies to absolve their responsibility – such as claiming that he ran from them and jumped the gates at the station, when he did nothing of the sort. The local community was in effect in a state of siege for a week, with police at every turn.
An inquiry in 2007 fined the Met police for 19 failings. But questions still remain. Why, if the Met thought they were chasing a terrorist, did they not arrest him before they reached Stockwell tube station where Jean Charles was killed?
Sadly these are not isolated cases. Mark Duggan, Sean Rigg, Joy Gardner, Cynthia Jarrett, Roger Sylvester, Derek Bennett, Smiley Culture, Kingsley Burrell … there is a long list of deaths of black people at the hands of the police.
The Socialist Party completely opposes police harassment and racism. We call for an end to repressive police powers and demand an independent, trade union-led inquiry into police brutality and killings.
---
This version of this article was first posted on the Socialist Party website on 19 June 2015 and may vary slightly from the version subsequently printed in The Socialist.