Kill the bill!
Join the National Shop Stewards Network lobby of TUC Congress
NSSN national chair and Socialist Party industrial organiser Rob Williams explains why all trade unionists should come to the NSSN lobby of TUC Congress on 13 September to build the pressure for mass action to defeat the Tories' planned new anti-union laws. This in an edited version of the introduction to the new Socialist Party pamphlet 'Kill the Bill'.
Cameron's Trade Union Bill is an extension and deepening of Thatcher's laws of the 1980s that were shamefully retained by the New Labour governments of Blair and Brown.
They would also enshrine many of the attacks that the ConDem coalition carried out on the PCS civil service union, like cuts to facility time and the removal of check-off – the deduction of members' union subscriptions from salaries.
This bill's main measures range from new tougher voting thresholds to effectively opening the way to criminalise union reps. The Tories are even weighing up forcing striking unions to give two weeks' notice if they plan to campaign via social media!
But attacks on the ability of workers to organise aren't new. The basic right of workers to organise in a union had to be won against brutal assaults by the employers and their political representatives.
There were massive battles and victories against the anti-union plans of firstly the Wilson Labour government and then Heath's Tory administration. 'Saltley Gate' in 1972 saw tens of thousands of Birmingham engineering and car workers walk out to support striking miners.
Militant (now Socialist Party) supporters in Birmingham played a key role in tipping off the National Union of Miners pickets in Birmingham that the Saltley works was being used as a collecting depot for "scab coal". The mass mobilisation forced the police to close the depot.
24-hour general strike
After their defeat, the Tories planned revenge, especially on the miners. But Thatcher and her laws could have been defeated if the unions had called a 24-hour general strike.
The Socialist Party warns of the stiff challenge that faces the unions and the working-class now. But we are implacable in our optimism that with the correct strategy, the determination of millions of workers, mobilised and co-ordinated in action the Trade Union Bill can be defeated and a new period of intense struggle will open up.
---
Come to the NSSN lobby – tell the TUC it's time to demonstrate and strike together!
NSSN public rally and lobby of TUC Congress in Brighton
Speakers to include:
Mark Serwotka, PCS general secretary
Mick Cash, RMT general secretary
Matt Wrack, FBU general secretary
Ronnie Draper, BFAWU general secretary
Steve Gillan, POA general secretary
Dave Ward, CWU general secretary
Suzanne Muna, Unite executive
1pm Sunday 13 September
Charlotte Room in the Grand Hotel, 97-99 King's Rd BN1 2FW (next to the Brighton Conference Centre)
---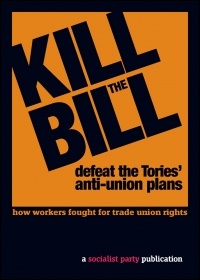 Front cover of Socialist Party book 'Kill the Bill: How workers fought for trade union rights', design by Dennis Rudd (Click to enlarge: opens in new window)
Kill the Bill: defeat the Tories' anti-union plans
A new Socialist Party pamphlet
£2.00
Available from Left Books PO Box 24697, London E11 1YD
020 8988 8789 www.leftbooks.co.uk
Make cheques payable to 'Left Books'