Link to this page: https://www.socialistparty.org.uk/issue/874/21577
From The Socialist newspaper, 14 October 2015
80 ambulance calls in two years for exhausted Sports Direct staff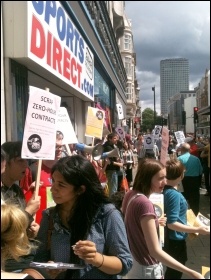 Youth Fight for Jobs protesting outside Sports Direct against zero-hour contracts in 2013, photo Ian Pattison (Click to enlarge)
Daniel Smart
At the headquarters of infamous retailer Sports Direct, ambulances may have been called more than 80 times over two years.
According to the BBC, 36 calls were for life-threatening illnesses - including chest pains, breathing problems, convulsions and strokes.

Bosses claim that 80 is the figure for the warehouse's postcode, and 'only' 24 were to the warehouse itself. Even if this is true, the figure is unacceptable.
Three of the calls to the warehouse in Derbyshire were for women having pregnancy difficulties. One even gave birth in toilets at the site.
Sports Direct is notorious for exploiting zero-hour agency workers - over 90% of the workforce has no guaranteed hours. Workers said many are "too scared" to take sick leave because they fear losing their jobs.
One agency that supplies staff for Sports Direct has a 'six-strike' policy. Offences include: any "period of reported sickness", "excessive chatting", and "excessive or long toilet breaks".
The agency also states assignments can be ended "at any time without reason, notice or liability".
Richest
Mike Ashley, owner of Sports Direct, is among the ten richest people in Britain, according to Forbes magazine. He has an estimated wealth of £3.5 billion. Yet he refuses to pay for the most basic decent working conditions for the workers who make him his millions.
The Socialist Party campaigns to put an end to exploitative, Dickensian working conditions. We demand an end to zero-hour contracts. All workers, including agency staff, must have trade union rates of pay, full employment protection, and sickness and holiday rights from day one of employment.
Why not click here to join the Socialist Party, or click here to donate to the Socialist Party.
---
In The Socialist 14 October 2015:
---
Socialist Party news and analysis

Organise to fight endless austerity

Tory tax credit thieves take up to £1,700 a year from workers

Workers on Tory 'living' wage can't afford Tory 'starter homes'

80 ambulance calls in two years for exhausted Sports Direct staff

Fat-cat Facebook pays less UK tax than couple earning national average wage

Them & Us

Daily Mail cake bake race hate debate
---
Socialist Party feature

Health service: condition critical

Doctors fight back!
---
Socialist Party youth and students

Under-25s: productive, passionate and underpaid

Boozers of the world unite! London Marx pub crawl

Reading launches new Socialist Students group
---
International socialist news and analysis

Syria: Western governments' interventionist strategy in tatters

Bomb attack on Ankara peace demo
---
Workplace news and analysis

Should trade unions be re-affiliating to the Labour Party?

Napo at a crossroads

Junior doctors' dispute

Unison general secretary election: Roger Bannister wins place on ballot paper

Workplace news in brief

Living wage victory for Hackney traffic wardens

School support staff: Furious response to pay cut threat

Glasgow's trade unions demand 'no-cuts' budget from council

College cuts and funding chaos
---
Socialist Party reports and campaigns

Fighting Fund target smashed!

Thousands cram 'the People's Post' rally to hear Corbyn

TUSC groups writing to Labour councillors
---
Home | The Socialist 14 October 2015 | Join the Socialist Party
Subscribe | Donate | Audio | PDF | ebook
---