Chris Newby
Five years on from the wave of riots that swept across cities in England, many of the underlying social problems are still there or have got worse. There is a real possibility of new upheavals breaking out today.
The initial riots in Tottenham, north London, were sparked following the police killing of Mark Duggan in Tottenham on 4 August 2011 and a community protest outside Tottenham police station.
These riots came out of a whole number of factors: poverty, inequality, police harassment, and anger at the rottenness of the political elite. Before the August events young people in the Tottenham area warned that the closure of the borough's youth clubs would lead to riots.
Tory ministers denied any link between poverty and a lack of opportunities to the disturbances. Instead they contemptuously referred to a 'feral underclass' of 'benefit scroungers'. This bile was repeated in the Sun which claimed that: "Thugs held in the August riots were part of a feckless criminal underclass – with one in eight on disability benefits."
Make an example
The criminal justice system was used to 'make an example' of convicted rioters. Three times as many offenders were jailed compared to those convicted of similar offences the year before and the average custodial sentence was four times longer. A college student was jailed for six months for stealing £3.50 worth of bottled water from Lidl.
Public service cuts and enduring poverty were not unique to Tottenham and the spreading of the riots was a reflection of that. They were not race riots but involved young people living in the inner cities from every ethnic background. Nevertheless, police racism was a major factor in sparking the riots.
The riots that broke out after the shooting of Mark Duggan represented a form of protest – a blind lashing out by young people facing attacks on every front.
While rioting expresses community frustration and rage, it is not an effective way of channelling that anger into a positive outcome. Often it is working class communities that suffer the consequences of riots, with burned out homes, local shops and businesses.
The Socialist Party, understanding the underlying reasons behind these riots, supported the campaign initiated by Youth Fight for Jobs to stop the closure of youth clubs in Haringey. The Socialist Party also participated in the 3,000-strong unity demonstration from Hackney to Tottenham, which drew support from local trade unions and anti-cuts and community organisations.
Cuts
The demo's demands included: 'No cuts to public services! Investment into and regeneration of our communities, including housing, jobs, education and sports facilities; an independent community inquiry into policing methods in our boroughs, an end to discriminatory stop and search; and support for those affected by the rioting, including the immediate re-housing of people made homeless as well as grants for affected small businesses.'
We also consistently campaign against cuts to public services and particularly call on Labour councils to defend public services and refuse to carry out the Tory cuts. The 2011 riots started in the London borough of Haringey, a Labour-run council then and now.
This council has consistently refused to stand up to government austerity and instead has implemented its spending cuts. This has meant that the situation in the borough, already at breaking point, is now even worse.
How has the situation changed from 2011? As the Socialist reported recently, black people are 37 times more likely to be stopped and searched by the police than white people.
UK police are disproportionately likely to kill black and Asian people in custody or shootings according to advocacy group, Inquest. Black workers face discrimination in their pay which is, on average, 13% less than white workers. When you compare black graduates and white graduates pay, this figure reaches 25%.
Cuts and privatisation of public services is many times worse than 2011, highlighted by the new housing act which will dramatically increase the rents in social housing and widen the sell-off of social housing to include housing association properties (see back page).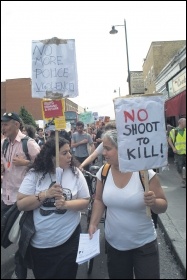 Community protest against police violence following 2011 London riots, photo Paul Mattson (Click to enlarge: opens in new window)
Black Lives Matter
But there are several key differences to the situation that existed in 2011. The development of the Black Lives Matter movement in Britain that echoes the movement in the US has helped to bring together those angry at police racism, the lack of justice for families whose relatives have been killed by the police, and the injustices that the black community faces.
Many that have been drawn towards Black Lives Matter events and meetings have been open to discussing socialist ideas and coming to Socialist Party meetings.
The election of Jeremy Corbyn to the leadership of the Labour Party, while the battle for the Labour Party is far from finished, means that there is now a leader of one of the main political parties that opposes war, austerity and racism, and voices an alternative to the politics of big business.
While all the pressures and problems that existed in 2011 are still there and in many cases getting worse, the development of these movements over the last few years show that there is a possibility of turning this anger and frustration in a positive direction to challenge the capitalist system which creates this inequality.