Link to this page: https://www.socialistparty.org.uk/issue/931/24193
From The Socialist newspaper, 11 January 2017
Sham Royal Mail pensions consultation should be met with action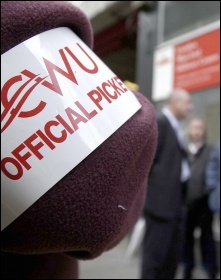 CWU members want action against Royal Mail's pension attacks, photo Paul Mattsson (Click to enlarge)
Carl Harper, CWU representative and Peterborough Socialist Party
Royal Mail has announced a 'formal consultation' on the pension plans of its workers, following a national statement with 'proposals' sent to workers' home addresses.
The Communication Workers' Union (CWU) has replied with a statement to the company that any non-agreed pension changes will be met with a national strike ballot. Members of my branch supported this position unanimously at a gate meeting on 6 January.
Deputy General Secretary Terry Pullinger said of the consultation: "We have anticipated [it] for some months... we move from shadow boxing to the ring." In reality, following privatisation, it is less a boxing match and more a strategy of 'death by a thousand cuts'.
A pension dispute is likely to be followed by further cuts as the company looks to claw back the terms and conditions of employment we have won in the past, in search of profits and as an ideological attack on the CWU.
Between the lines in the cover letter accompanying the consultation pack, we see an indication that cost - or more specifically profit - is the driving force behind this attack.
The company states in the letter that any new deal will be in line with other companies' pension plans - signalling a race to the bottom on our pensions, justified in their opinion by achieving a stable return for shareholders.
The unanimous vote by members is a welcome sign that they understand the full significance and potential magnitude of this attack and stand resolutely in opposition to pension changes which have not been agreed by us as a trade union.
Action should link these attacks to the privatisation of the postal service and a campaign for renationalisation of the company and the wider postal industry.
Donate to the Socialist Party
Finance appeal
The coronavirus crisis has laid bare the class character of society in numerous ways. It is making clear to many that it is the working class that keeps society running, not the CEOs of major corporations.
The results of austerity have been graphically demonstrated as public services strain to cope with the crisis.
The Socialist Party's material is more vital than ever, so we can continue to report from workers who are fighting for better health and safety measures, against layoffs, for adequate staffing levels, etc.
We must be ready for the stormy events ahead and the need to arm workers' movements with a socialist programme - one which puts the health and needs of humanity before the profits of a few.
Inevitably, during the crisis we have not been able to sell the Socialist and raise funds in the ways we normally would.
We therefore urgently appeal to all our viewers to donate to our Fighting Fund.
---
In The Socialist 11 January 2017:
---
NHS in meltdown

NHS in meltdown

NHS in meltdown from spending cuts - demonstrate on 4 March!

Sustainability and Transformation plans - a repackaging of cuts

Worcestershire hospital deaths expose NHS crisis
---
Socialist Party comments and reviews

Football abuse scandal: Reclaim the game for justice and accountability

Book review: Spy drama gives insight into capitalist coup plot
---
What we think

Strikes show workers' power
---
Socialist Party news and analysis

'Cash for ash' scandal set to bring down Northern Ireland government

May slams 'economic inequalities' Tory policies created

Blair's multimillion plans to fight 'populism'

Bosses earn average salary in under three days

What we saw

Them & Us: £500k house party... 50p for rent
---
Labour Party

Haringey: pressure grows as Labour council cuts

Sick of sham consultations - give us a real fightback

Khan should attack bosses, not workers
---
Socialist Party workplace news

Tube strike solid in fight for jobs and safety

Support BA cabin crews' strike for fair pay

Sham Royal Mail pensions consultation - action needed

Unison legal battle looks into allegations 'Team Dave' broke rules during general secretary election

Workplace news in brief
---
Socialist Party reports and campaigns

Build the resistance against Trump

Socialist Party national women's meeting

2016: A record-breaking fighting fund year!

Closing of the children's centres could cost lives
---
International socialist news and analysis

Palestine/Israel: Everyday life under occupation
---
Home | The Socialist 11 January 2017 | Join the Socialist Party
Subscribe | Donate | Audio | PDF | ebook
---