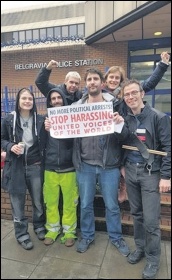 Petros Elia (centre), general secretary of the United Voices of the World union, on his release from custody, photo by UVW (Click to enlarge: opens in new window)
Harrods demo arrest
Hundreds of protesters descended on plush west London department store Harrods on 7 January in protest at the company retaining 75% of its waiters tips, as reported in the last issue of the Socialist. The United Voices of the World (UVW) trade union is taking on Harrods and organised the demo. After it ended, the union's general secretary Petros Elia, along with other union members and protesters, was arrested. After his release Petros said: "I was kept in a cell for around 17 hours at Belgravia Police Station and released without charge along with other UVW members and other protesters. Needless to say that the allegation against me is 100% false, not that the police were interested in evidence at the point of arrest. Despite there being not a shred of evidence against me I have been released on bail and prohibited from going within 50 metres of Harrods. The police have therefore temporarily banned me from representing members of UVW at Harrods or from protesting outside their store. On a side note, the demo was fantastic and we will now be escalating the campaign with a run of demonstrations and other actions at Harrods until 100% of tips go to staff."
---
Cinema strike
Hackney Picturehouse workers have held a series of successful strikes including on New Year's Day. To widen and increase the pressure on management, all Bectu members were balloted at Picturehouse cinemas at the Ritzy (South London), in Hackney and Piccadilly Circus, with turnouts of 75%, 85% and 60% respectively. The vote for strike action was a huge 93%, 100% and 100% majority at the three sites. Despite this, following a threatened legal challenge by Picturehouse owners Cineworld, the strike planned for 13 January has been called off. There may be protests taking place at all three sites.
Brian Debus, Hackney Socialist Party
---
Unite the Union executive elections
Four Socialist Party members are standing on the United Left slate (unitedleft.org.uk) in the Unite executive elections that take place at the same time as the union's general secretary ballot.
Suzanne Muna has been on the executive since 2015 and is again standing for one of the London & Eastern territorial seats, while Jamie Concozza is on the list for Scotland.
Former anti-cuts councillor Kevin Bennett is up for election in the General Engineering, Manufacturing and Servicing (GEMS) sector and Jimmy Tyson is standing in construction.
Nominations are from 16 January – 17 February and voting is between 27 March – 19 April